Melba Depeña Affigne, director of the RI Department of Human Services (DHS), was "surprised to hear [that clients] did not get service" at the Woonsocket DHS offices. The clients in question were referred from the Woonsocket offices to the DHS offices in Pawtucket, a four hour round trip by bus.
Michael DiBiase, director of the RI Department of Administration said, regarding the problems at the Woonsocket branch of the DHS that the "break in service was unfortunate" and will last "hopefully less than a month."
DiBiase and Affigne were holding a press conference to explain the layoff of 70 DHS employees, mostly social workers, as part a major reorganization of the DHS and the launching of a new computerized eligibility system that is projected to save taxpayers millions.
The laid off social workers, said DiBiase, will have a chance to apply for one of the more than fifty job openings at DCYF (Department of Children, Youth and Families). The layoffs are required, said Affigne, because of a "new staffing model" that will allow DHS to make significant cuts. The new model is "task based" and will not require supervisors trained in social work to manage by "case load."
I asked Sue Pearlmutter, dean of the Rhode Island College School of Social Work if this means that the DHS is moving away from social workers advocating on behalf of clients and towards data entry technicians assisting clients using the computers.
"That has been my impression," said Pearlmutter. The DHS is moving towards "a very different kind of process. Social workers engage with the client and work with the client." The application process DHS is instituting makes "people take responsibility for their application at a kiosk or in a library."
Often, these are "people in crisis" at a time when "completing an application is a daunting process." Some adults and young adults, says Pearlmutter, "may find the process overwhelming. Removing a level of staff may cause more problems for people facing crisis."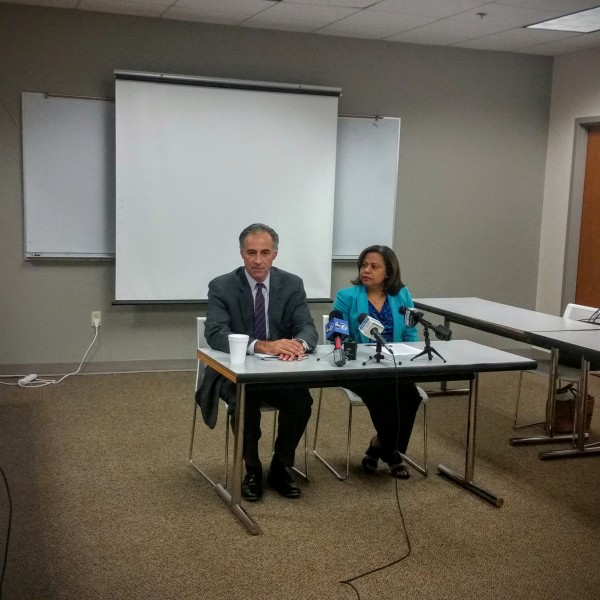 As for the staff DHS is cutting, saying that there are openings at DCYF is disingenuous. Many of the staff losing their positions at DHS started at DCYF, said Pearlmutter. They took jobs at DHS "because the work at DCYF is so crisis oriented. It's difficult and emotional work that many found they couldn't do any more."
Talking about the jobs at DCYF as being like the work at DHS "shows no understanding of the kind of work social work is," says Pearlmutter.
The new computer system, which has no official name, it's just the "New Integrated Eligibility System," said Affigne, was supposed to be online in July, and is now slated to be operational in mid September. The system will reduce the amount of time prospective clients will spend with social workers. This is "by far the largest technology project that has ever been undertaken by the State of Rhode Island," said DiBiase.
The new computer system, said Affigne, is an "incredible tool for our workforce" that will "enhance customer service."
Lucie Burdick, president of Local 580 of the Service Employees International Union (SEIU), disagrees. She told RI Future that "this extremely expensive computer system, if it even works correctly someday, will never provide the quality of service a trained, educated, experienced human being provides. The computer pilot program is failing miserably at this point and costs are rising rapidly. It could have been done better and cheaper. The displacement of staff and the cost of human suffering that it has exacted on the population we serve is unconscionable.
"This fiasco is the 38 Studios of human services. The taxpayers and advocates for the poor should be outraged."
DHS provides people in need with access to many services such as Medicaid, SNAP benefits, Rhode Island Works (RIW), Child Care Assistance Program (CCAP), LTSS, General Public Assistance (GPA) and access to various energy assistance programs like HEAP, WAP and HSR. Affigne said that about one in five Rhode Islanders use services offered at the DHS, and that they maintain six field offices, like the one in Woonsocket.
"What will be the impact on clients?" I asked.
Affigne replied, "There will be no impact on clients."
Yet existing clients did not start receiving notifications of reduced services in Woonsocket until August 23, and the Woonsocket DHS began reduced services on the 19th. That's two or thee days of people arriving at the Woonsocket offices and learning that they were in for a four hour bus ride to Pawtucket from a sign taped to the door.
As Bob Plain and I tried to ask questions to get to the heart of the issue of the actual impact that this transition will have on people trying to access needed state services, Kristin Gourlay, health care reporter for RIPR cut in.
"Presumably," said Gourlay, "in September, when the system goes live, people won't have to go to a field office, they can go to- if the have a computer at home they can use that, they could go to a public library and use a computer there or another social service agency…"
"Correct," said Affigne.
This allowed DiBiase and Affigne to shrug off concerns about social workers and clients as mere "bumps" along the way towards an improved, (read: cheaper) system. Yet, at a time when poverty and income inequality are at all time highs, and the economy of Rhode Island is barely improving, "bumps" in the lives of the one in five Rhode Islanders applying for needed assistance can be catastrophic.
Here's the video of RIFuture's questions:
Here's the video of the full press conference:
New computer system at DHS hurts clients and social workers

,