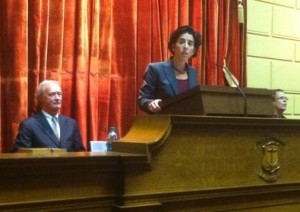 Divesting from dangerous weapons is a step in the right direction, and I applaud Gina Raimondo's effort to make our pension fund more socially responsible. This blog doesn't often have opportunity to agree with the hedge fund-loving general treasurer, but I certainly hope the State Investment Commission takes her advice and takes our money out of a company that distributes guns.
I'd also encourage Raimondo and the others who control Rhode Island's $7 billion nest egg to look hard for other opportunities to be more socially responsible with our money. This would be a pension reform progressives would be proud to support, and would be better for our economy than cutting COLAs or enriching hedge fund managers.
Divestment, or socially responsible investing, is already a movement in Rhode Island. The Providence City Council recently voted to make its investment portfolio better match its values (what that will look like still remains to be seen) and Brown Divest Coal has long advocated for the Ivy League endowment to take its money out of companies that harm the environment.
Here's hoping Seth Magaziner's political ambitions will help shine a bright light on why socially responsible investing is a better bet for Main Street. High finance can be community-minded. And the more it is, the more profitable being community-minded will become.
Divest pension funds from guns, but don't stop there

,