A single parent with two young children in Rhode Island needs to earn about $28 an hour – or more than $59,000 a year – to afford basic family expenses. But 82 percent of such families in the Ocean State earn less than this, according to a new report from the Economic Progress Institute.

READ THE FULL 2014 EPI "RHODE ISLAND STANDARD OF NEED" REPORT HERE
A Rhode Islander with no children needs to earn $11.86 hourly – almost $3 more than what the state minimum wage will increase to next year – in order to afford "a no-frills budget that includes the costs of housing, food, transportation, health care, child care and other necessities such as clothing, toiletries and telephone service," according to the new report. About 36 percent of single adults in the Ocean State earn less than this $24,666 annual threshold, according to the new EPI report.
A two parent family with two young children would need to earn $30 an hour to make ends meet, says the report. In other words, if each parent worked 60 hours a week at a minimum wage job the family would still fall about $3 an hour short of making ends meet.
According to the report, only 27 percent of all jobs in Rhode Island pay enough for a family with two children to survive on. "Child care and health care subsidies, tax credits, and nutrition assistance make a significant difference for families when wages aren't enough," it reads.
"Rhode Island is a beautiful state with sandy beaches, world class restaurants, and a vibrant arts and culture scene," according to the report. "Yet many workers in our state struggle just to pay for the basics, making it all but impossible for them to enjoy all that our state has to offer. In fact, many workers would not be able to get by if not for government funded work and income supports that help close the gap between earnings and expenses."
The report, it says, "demonstrates how work supports like food assistance, tax credits and child care and health care subsidies help close the gap between income and basic expenses."
It uses the hypothetical example of a local bank teller to do so:
"Cynthia is a single mom of eight-year old Sam and Emma, aged two and a half. Cynthia works as a bank teller and has annual earnings of $27,112. The health insurance offered through Cynthia's employer is unaffordable, but fortunately she is able to enroll her family in RIte Care Health Insurance at no cost. She also quali- fies for help paying for full-time care for Emma and after-school care for Sam which together costs $1373 each month. Based on her income, Cynthia's co-pay through the Child Care Assistance program is $113/month. Without these child care and health care subsidies, Cynthia's basic-needs budget would be in the red $1,135 every month. With these subsidies, Cynthia is able to meet her basic expenses with $110 left over."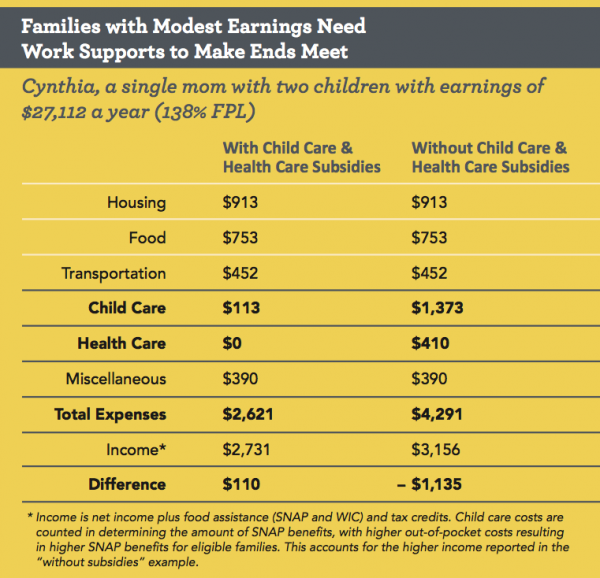 The EPI report stresses that the Federal Poverty Level is no longer an accurate barometer of poverty.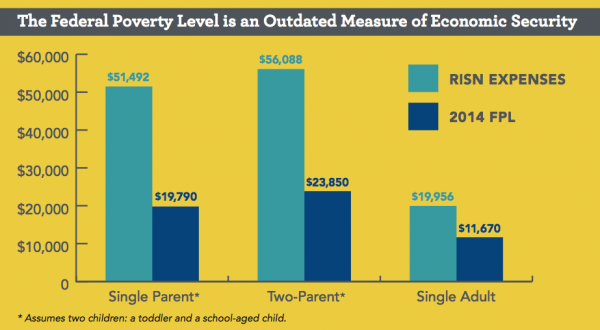 READ THE FULL 2014 EPI "RHODE ISLAND STANDARD OF NEED" REPORT HERE
EPI defines poverty in Rhode Island, and who is living in it

,