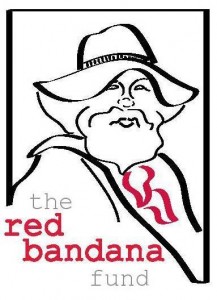 Congratulations to Eric Hirsch, a Providence College sociology professor who works with the homeless, and the employees of the Renaissance Hotel, who have been organizing for better working conditions. Both will be honored with Red Bandana awards this year.
"It's a huge honor to get an award with Richard's name on it!" Hirsch wrote on Facebook.
Established last year, the Red Bandana award recognizes Rhode Islanders who exemplify the spirit and commitment of Richard Walton, a beloved local activist who passed away in 2012.
Hirsch is best known for coordinating the annual homeless census in Rhode Island and is vice president of the Rhode Island Coalition for the Homeless' board of directors. In recent years the group helped win passage of a first-in-the-nation Homeless Bill of Rights and more recently the group has won increasing support for ending homelessness in Rhode Island by investing in supportive housing options.
"A tireless advocate for the poor and homeless, he has worked with the RI Coalition for the Homeless on the streets, in the classroom, and in the statehouse, striving to help the less fortunate in our area," according to a press release announcing the awards.
The Renaissance workers have been embroiled in a several year battle with hotel owners and management for better, healthier working conditions. They have been assisted by Unite Here Local 217, a labor union. This weekend, the workers held a 7am protest outside the hotel, which included music and drums. It rankled both management and hotel patrons. And last year, several Renaissance housekeepers held a hunger strike at the State House and managed to win city support for a $15 minimum wage in Providence.
"The workers at the Renaissance Hotel, many of them first generation immigrants, have bravely spoken out for their need for a union," according to the press release. "Their union organizing has continued for a number of years, despite the resistance of the hotel management. The workers insistence on their right to decent working conditions and a living wage reminds us that all people are entitled to a decent, sustainable life."
Hirsch and the Renaissance employees worked together just yesterday on campus at Providence College. Both are part of a group trying to get the college to do more to stop racial profiling on campus and stop the college from doing business with the hotel until labor conditions improve.
They will be honored at a ceremony on May 31, at Nick-a-Nees, 75 South St. Providence, from 4 to 7 pm. The event is family friendly. Local bands The Gnomes and Extraordinary Rendition Band will perform.
"We're very excited about the honorees this year," said Red Bandana Fund President Bill Harley. "Eric and the workers from Renaissance represent all of the people working for a better life for all of us here in the Rhode Island area. Those of us who remember Richard Walton feel he would be very happy  that these folks are being honored."