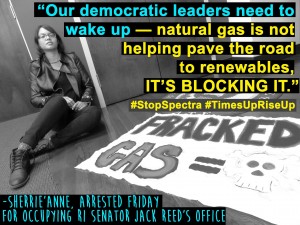 Continuing a protest at U.S. Senator Whitehouse's office last August, three Fighting Against Natural Gas (FANG) activists were arrested in the office of U.S. Senator Jack Reed on Halloween. They refused to leave until the senator would pledge to end to his support for expansion of the natural gas pipeline infrastructure.
Fossil Free Rhode Island stands in solidarity with the courageous protestors and takes emphatic exception to the statement issued by Senator Reed's office that the senator is an "environmental champion" who "always puts public health and safety first."
In June of 2013, the Obama administration launched the President's Climate Action Plan, which touts natural gas as a "bridge fuel." In June, the EPA proposed its Clean Power Plan that allegedly "will maintain an affordable, reliable energy system, while cutting pollution and protecting our health and environment." Both Rhode Island U.S. senators, although aware of the problems associated with natural gas, are on record for their strong support of its expanded use.
At a public forum held May 16, 2014, responding to a question of the senators' stands on natural gas, Whitehouse said:
I actually think that it is a bridge fuel.
He went on to explain:
I do think that trying to ease the choke points into New England so that we are not seeing price spikes, as a short-term benefit for our economy, is a value.
Reed concurred and stated that:
We should be able to generate significant resources to safely rebuild our pipelines in New England so that we do not have methane leakage so that we tap into energy sources around the country.
Unfortunately, a "short-time economic benefit" is inconsistent with the typical 50-year lifetime of natural gas infrastructure. Even more jarring is that science tells us that humanity has about a decade to develop a global, sustainable energy system. A report released in December of 2013 by a multidisciplinary team of scientists "conclude[s] that the widely accepted target of limiting human-made global climate warming to 2 degrees Celsius (3.6 degrees Fahrenheit) above the pre-industrial level is too high and would subject future generations and the earth itself to irreparable harm. Carbon dioxide emissions from fossil fuel use must be reduced rapidly to avoid irreversible consequences such as a sea level rise large enough to inundate most coastal cities and extermination of many of today's species."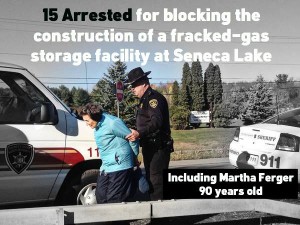 More important than what the senators say are their omissions. In their pitch for a business-as-usual infrastructure in New England they mention that escaping methane is a serious problem. However, they fail to mention that 75% of the leakage occurs near the fracking wells rather than in the pipelines. Nor do they utter a word about the public health and safety concerns associated with fracking: "A significant body of evidence has emerged to demonstrate that these activities are inherently dangerous to people and their communities. Risks include adverse impacts on water, air, agriculture, public health and safety, property values, climate stability and economic vitality."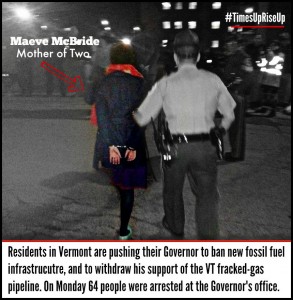 Meanwhile, the planned use of natural gas is based on serious underestimates by the EPA[10] of how much methane leaks into the atmosphere. The bottom line is that this development is likely to exacerbate the greenhouse gas emission problem.
At the same time, this course of action will delay the development and deployment of renewable energy technology. In fact, it is but an excuse for inaction.  Indeed, one of the authors of the Climate Change 2014 Synthesis Report, that just came out,  Michael Oppenheimer, a principal author of the report said:
We've seen many governments delay and delay and delay on implementing comprehensive emissions cuts. So the need for a lot of luck looms larger and larger. Personally, I think it's a slim reed to lean on for the fate of the planet.
The climate disruption resulting from "all of the above" is morally unacceptable in terms of its human, environmental, and economic toll.
FFRI joins fight against pipeline expansion

,