On Tuesday, voters in Alaska, Arkansas, Nebraska and South Dakota passed measures to raise the minimum wage in their states. These states are Republican strongholds, yet minimum wage increases passed overwhelmingly: 68.6% vs 31.3% in Alaska, 65% to 35% in Arkansas, 59.2% to 40.8% in Nebraska and 54.7% to 45.3% in South Dakota. These are conservative, hard-core red states, but the measures passed because no matter where on the political spectrum Americans stand, most of us believe in the fairness and justice of earning a living wage from a forty hour a week job.
Meanwhile, in California, ultra-liberal San Francisco leap-frogged all the competition by passing a $15 minimum wage ordinance in their city, and Oakland went to $12.25.
So what's going on in Rhode Island?
Last year, the state raised the minimum wage to $9, from $8. This happened as hotel workers were fighting in Providence for a industry-specific $15 minimum wage and in short order a line was inserted into the state's budget, without public debate or vetting, that prevented cities and towns from setting their own minimum wage floors.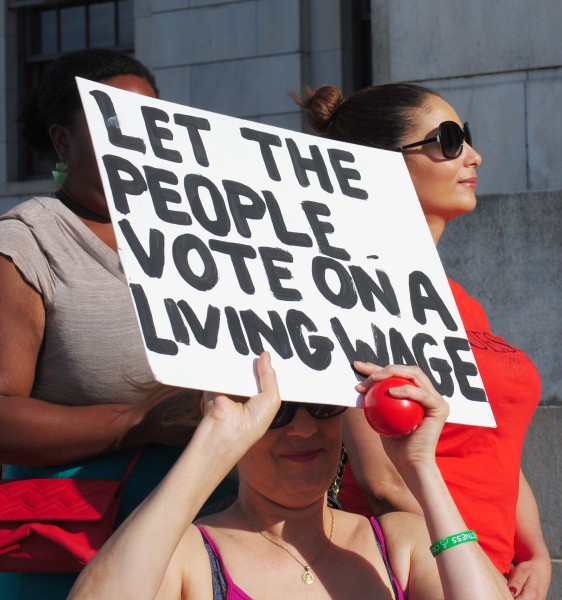 The hardworking hotel workers had successfully petitioned the city council into placing a $15 minimum wage measure onto the ballot. Citizens of Providence would have voted on that measure Tuesday, if not for the actions of the General Assembly. There is little doubt that the measure would have passed here in Providence. I mean, seriously, are voters in Alaska, Arkansas, Nebraska and South Dakota more compassionate than voters in Providence?
Speaker of the House Nicholas Mattiello and Budget Committee Chairman Representative Raymond Gallison did everything in their power to circumvent the will of the people and democracy itself in a sickening display of cavalier corporate bootlicking. Indeed, so great is Mattiello's obsequious desire to serve corporate interests that he specifically targeted Maria Cimini, the only representative to raise any objections to the measure, by backing her opponent in the primary. Cimini lost her bid for re-election.
Over the course of the election here in Providence, many candidates have voiced their displeasure at Mattiello and Gallison's power grab. Mayor Elect Jorge Elorza, said that he would actively work to have the law overturned, so that Providence and other cities might set their own minimum wage floors. In the October 22 mayoral forum Elorza even hinted that he supports a $15 minimum wage. I look forward to seeing Elorza at the State House in support of whatever bill is introduced to overturn the measure. Gina Raimondo is also on record as saying that the minimum wage needs to be increased to $10.10 (though she has never committed to $15.)
The Economic Progress Institute says an adult needs at least "$11.93 an hour to afford their most basic living expenses." That's $3 over our minimum wage and probably still another $3 shy of a living wage.
Raising the minimum wage to a living wage will prevent more Rhode Islanders from slipping into poverty, losing their homes and postponing their educations. It will give parents, now working two and three jobs to keep an apartment, more time to be parents and keep their kids off the streets and out of trouble. It will increase the purchasing power of Rhode Islanders, driving money to local businesses. It will reduce people's dependence on financial debt traps like payday loans, and allow people to start bank accounts to earn credit and plan their retirement or their kids college.
Raising the minimum wage to a living wage will help people live lives of meaning without the stress of grinding poverty and the hopelessness such a life inculcates. Even the more conservative states are acting in lieu of a federal increase. The more progressive cities across the country are acting in lieu of a meaningful minimum wage in any state.
For this to happen in Rhode Island, we need to pressure the General Assembly to reverse last year's law that prevents cities and towns from helping hourly-earning residents out of poverty.
The election over, it's time for a $15 minimum wage

,