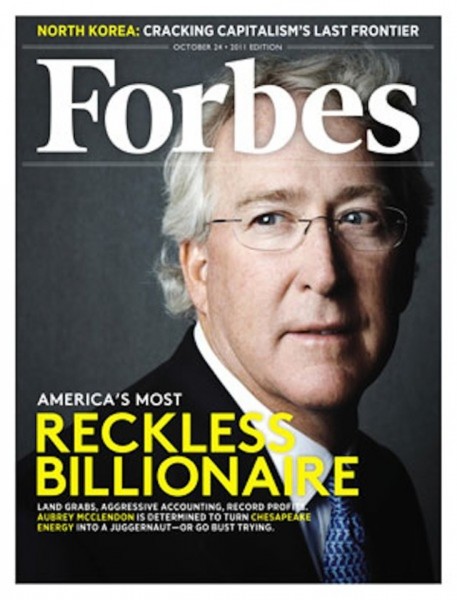 Aubry McClendon, ousted CEO of Chesapeake Energy Corp, was indicted on Tuesday for conspiring to rig bids to buy oil and natural gas leases in Oklahoma.  The indictment is the result of a four-year antitrust investigation by the US Department of  Justice.
Let's revisit some of the prehistory.  McClendon was among the scam artists who took the White House for a wild ride on the natural-gas bridge to nowhere. Recall Obama's 2012 State of the Onion address celebrating the founding of Saudi America:
… oil is not enough. This country needs an all-out, all-of-the-above strategy that develops every available source of American energy. [thunderous applause] A strategy that's cleaner, cheaper, and full of new jobs. We have a supply of natural gas that can last America nearly one hundred years.
McClendon's scheme was simple:
Lease land throughout Greater Frackonia.
Drill in the sweets spots.
Pretend that the gushing wells are representative.
Flip the leases before the buyers realize that the productivity of a typical fracked well is far worse and tends to decay by a factor of ten within three years.
Obama bought into McClendon's scam.  From there it trickled down via Rhode Island's Congressional delegation, led by Senator Sheldon Whitehouse.  Next, the snake oil flowed to Rhode Island's Office of Energy Resources, with Commissioner Marion Gold blazing the fracking trail for Team Raimondo.
Janet Fire Wall Coit, hapless director of the Department of Environmental Management, is collateral damage of the tragedy.  She is implicated by the bizarre Rhode Island statute that puts her on the Energy Facility Siting Board and makes her part of the "regulatory" process that will decide the fate of Invenergy's proposal for a gigawatt fossil fuel power plant in Burrillville.
Recently, Steve Ahlquist raised the question why the siting board is in such a hurry to push through Invenergy's proposal.  One part of the answer is that McClendon's gig is up; his co-conspirators know that their time is running out.  The other reason to make haste is Saudi Arabia's frontal attack on Saudi America by means of the current oversupply of oil, aka Oilmageddon.  The title of this post on DeSmogBlog says it all: "Top Drillers Shut Down U.S. Fracking Operations as Oil Prices Continue to Tank."  Of course, Chesapeake is one of those.
No surprise that all of this coincides with the precipitous drop in Spectra Energy's stock since the middle of 2014.  This is the corporation that will be the main supplier of fracked gas for Invenergy's stranded asset-to-be in Burrillville.  Fortunately, Team Raimondo is ready to bail out Spectra by creating a market for its gas and by selling Rhode Island down the "Clear River."
Guess who will be paying the bill for the construction of this power plant?  We the people of Rhode Island, of course!  It's joke of cosmic proportions that there will be a 38 Studios hearing to begin at 4:30pm this Thursday in room 101 of the State House.
Thanks, Team Raimondo!   We love you as you step on the gas in Burrillville to create 300 fleeting jobs.  Special thanks also to you, Rhode Island AFL-CIO, for your support for "Clear River" in your October 2015 resolution
Hey, only $2.3 million a job.  How do you beat that?
Note added to original post: Aubrey McClendon, 56, Ex-Chief of Chesapeake Energy, Dies in Crash a Day After Indictment
Founding father of Saudi America indicted

,