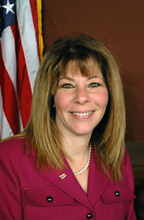 Rep. Art Handy is "stunned" that Rep. Doreen Costa thinks Bishop Thomas Tobin should look for ways to punish Catholic politicians who support marriage equality, according to a press release sent out by the Democratic Party this afternoon.
"I am appalled that she is asking the Church to punish so many good Catholic people who support the civil rights of the gay community," Handy, a Cranston Democrat, said in the release. "Unfortunately, her feelings are very symbolic of the Tea Party and right-wing thinking that is so prevalent within the state's Republican Party Leadership.
"Although I obviously disagree, I respected the Church's right to oppose my legislation," Handy said. "However, it crosses the line for a party leader to call for active involvement of the Church in partisan politics."
"Representative Costa needs to be reminded that her own Minority Leader, Brian Newberry, whom she supports, voted for marriage equality, as did the entire five-member Senate Republican delegation," Handy said. "Is she looking for the Catholic Church to punish her own party members who voted in favor of this legislation?"
UPDATE: According to a story in the Providence Journal, Costa said her comments had nothing to do with marriage equality.
Costa crossed line when she asked church to punish pols

,