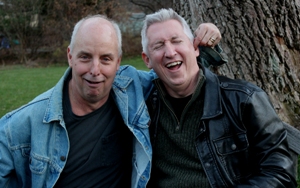 This Saturday, two of Rhode Island's best musicians are getting together to raise money for the RI Food Bank.  Bill Harley and Keith Munslow are playing together and celebrating the release of a new CD single: "It's Not Fair to Me."
I've known Bill and Keith for a long time, and thought they were pretty cool already, but was still startled to attend one of Bill's concerts years ago when my daughter was 5, and to be surrounded by people singing along to songs I'd never heard.  But I've heard them a lot since, and more, and enjoy them all.  The great part is that the lyrics are fun, the music infectious, and the stories hilarious, too.  Also, they both are the best kind of children's entertainers: the kind that don't talk down to their audience, and provide plenty of laughs for the rest of the audience, too.
There are two shows, at 11 and 2, at the Lincoln School in Providence.  Tickets are $10 for general admission and $15 for reserved seats. You can buy them online by clicking here or call Kathy Correia at 401-230-1673.