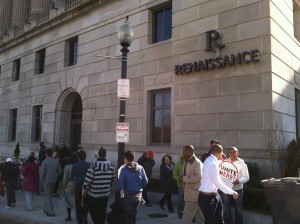 Workers at the Renaissance Hotel in downtown Providence have held rallies, marches and protests in calling attention to the poor conditions they have to endure at the Procaccanti Group-owned hotel. Today they will try civil disobedience.
An action outside the hotel is planned for 5pm, right across the street from the State House.
"After months of picketings, numerous federal government citations against Renaissance management for mistreatment of its workers, and refusal from The Procaccianti Group to address the workers demands, workers have planned an escalation of their struggle with a civil disobedience in front of the Renaissance Hotel," said this Facebook event post. "Come support the workers in their struggle for justice! Come join the picket to support those partaking in the civil disobedience! Come tell the community at-large to honor the workers' boycott of the Renaissance Hotel until justice is won! Come tell The Procaccianti Group to respect its workers demands!"
For almost a year, Renaissance Hotel workers have been fighting for better working conditions.
"Workers say the Hotel has always treated them poorly, but that conditions further deteriorated since the Procaccianti Group, a national hotel management company, took over the hotel in December 2012,"
according to a press release from last year
. "The Hotel's top management remains the same. Employees say they have had enough. They are demanding a voice on the job."
In January, the National Labor Relations Board issued a complaint against the hotel and scheduled a fact finding hearing in March.
"The NLRB Complaint alleges multiple acts of interfering with, restraining and coercing employee organizing rights, including interrogation and illegal promises of benefits to induce workers to abandon union organizing," according to the Joey Quits website earlier this year. "The NLRB Complaint cites The Procaccianti Group's TPG Hospitality affiliate for maintaining illegal work rules nationwide, including rules restricting communications and prohibiting employees from speaking to the media and the public about their jobs.