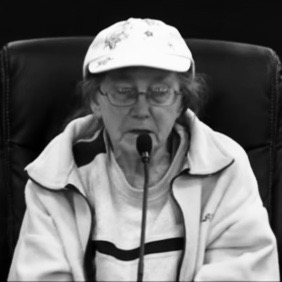 House Finance heard moving testimony from elderly and disabled Rhode Island Public Transit Authority (RIPTA) passengers about the economic burden placed upon them with the proposed abolition of free fares. Representative Scott Slater introduced a bill, H 7937, that would remove RIPTA's bus "fare adjustments" and restore the free rider program.
About eighteen people spoke out in favor of the free rider program, noting that it is one of our state's most needed and useful social welfare programs. As is usual when the government targets vulnerable populations for cuts in services or increased taxes, people begin to suffer as soon as the new proposals are suggested. The stress of having to fight for something so basic and essential to human dignity as the right to travel is an unnecessary cruelty inflicted by an uncaring government.
Many also spoke out about the failure of Logisticare, a private contractor employed by the state to get Medicaid recipients to their doctors. I'll be preparing a post on that over the weekend.
"It's financially impossible for me to be able to take a bus. You might say it's only fifty cents, but I take the bus like seven or eight times a day. So fifty cents becomes two, three, four bucks a day… I just don't have the money. I live off the government."
"I only live on Social Security. I don't get a pension from where I worked. I retired. I don't have a husband for financial support… This is another bill to pay, and you don't get a lot from Social Security."
"Our seniors today are more active than ever, as you can see. We have people here that are volunteering, making a difference in kid's lives, helping with raising their grandchildren, going to after school programs because parents have to work… think about your own family, and ask if your grandmothers and grandparents should have to pay to go to a grocery store, or a pharmacy or a doctor."
"I live on a fixed income. I live alone. I have to go to the doctor's for COPD, hypertension, cancer… I cannot afford it. To pay fifty cents even, I would just lose my life…"
"About seven thousand low-income seniors use these passes. They use them for many things. The only thing that Medicaid covers is trips to licensed medical providers. It doesn't cover non-medical support groups like AA, other social services, food shopping, food pantries, employment, education, religious, family and social activities…
"RIPTA estimates that 60 percent of the people would pay the fifty cents. Applying that to the numbers, 7000 disabled people and 2800 seniors would not be able to afford [the bus]. This is RIPTA's estimate."
"It also affects our homeless population… If the folks who need to travel to and from shelters do not have the money to do so, they may be put in the position to panhandle to get this fare… they may be put in the serious position where they may have to sleep outside…"
"I have to go places seven days a week… We need to vote no fare on this bus pass."
We know how many [homeless people], who have limited or no income, rely on the us pass program… to have their basic needs met. To get to shelter, to go to meal sites, to access clothing distribution and to recovery meetings like NA and AA. Our constituents also use the no-fare pass as a means to obtain housing and exit homelessness…"
"The vast majority of riders who pay two dollars support the no-fare bus pass… Riders really do support this program."
"It's very important that we don't hit the most vulnerable population to fill a budget deficit."
"The reason I'm here today is because I could get here for free. You're going to shut up a lot of people by taking away their free bus ride because they're not going to show up for these hearings. They won't be able to make it to any of the support groups they are now attending.I won't be able to get to church, I won't be able to make it to RIPTA Riders…"
"People's lives will become desperate if they have to pay fifty cents a ride…"
"The people who oppose free bus passes… have a lot of wrong information…"
"The impact is going to be devastating… If we charge people fifty cents they can't get to the food pantry… Another woman called me and said 'I don't know what I'm going to do. I won't get out of my apartment, I'm going to get depressed, and I can't afford to shop in my own neighborhood."
"The fifty cents can be a problem…"
"It's harder for me to express why this would be devastating to me. I don't volunteer. I keep thinking I would like to volunteer, and I seem to be overwhelmed by things I have to do or want to do and can't seem to get to… I take buses sometimes just to be able to get places and see people. Circumstances in my life force me to be somewhat of a recluse. That's why I'm saying there are subtleties here I'm not sure how to express…"
"I don't think it's right. I don't know how many people on SSI, making $766 a month. Those people shouldn't be getting charged at all. And I do believe in that…"
"I can't believe some of the heartless things people say about this. They say, 'Why should Rhode Island do this? Rhode Island is an outlier.' We don't have to be ashamed of who we are in Rhode Island. We don't have to be ashamed that we're more generous tan other states because we're doing the right thing…"
House Finance hears moving testimony on no-fare bus passes

,