John Niland, director of development for Invenergy, knowingly mislead both the public and the EFSB, the board tasked with deciding the fate of the Burrillville power plant proposal, at a public hearing on the matter, according to the Conservation Law Foundation (CLF).
The Conservation Law Foundation (CLF) today filed two expert witness testimonies with the Public Utilities Commission (PUC) that reveals Invenergy representatives knowingly presented false facts and figures at a public Energy Facilities Siting Board (EFSB) hearing in Burrillville attended by 700 people.
The CLF testimony also provides further evidence that the electricity produced by a proposed $700 million fracked gas and diesel burning power plant in Burrillville is not needed in New England.
Invenergy's estimates of consumer savings from the proposed plant are grossly inflated and inaccurate, says the CLF. Invenergy claims the power plant will save between $118 to $120 million for ratepayers. The actual number, according to CLF's witnesses, is between 0 and $36 million.
The first testimony is from Christopher Stix, a volunteer financial analyst for the CLF providing financial and market analysis for CLF's energy initiatives, specifically in the area of power plant licensing and electric and gas transmission. The testimony is lengthy and technical (and can be downloaded at the link above) but the actual conclusions of the testimony are fairly easy to present.
False Facts
Stix claims in his testimony that Invenergy knowingly presented false information at the March 31, 2016 EFSB hearing at the Burrillville High School.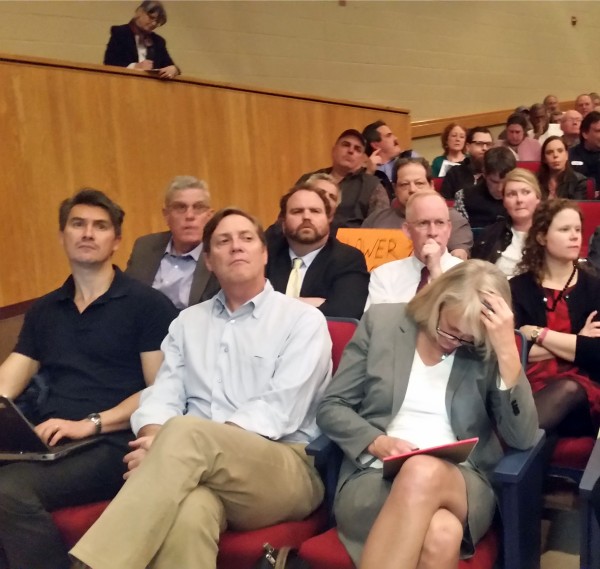 "…on March 31, in front of 700 people, Invenergy presented in two different ways… information that Invenergy knew, at the time, was false. First, the words "$280 million in Savings" appear in big, green letters on Slide 12 of Invenergy's presentation… Second, the false information was emphasized by Invenergy's John Niland, who said, "Talking about ratepayer savings, the analysis we've done looks at what happens to the cost of power to the region when you put in a plant like this. – – [T]hat's really what the $280 million number represents." [EFSB March 31, 2016 Hearing Transcript. page 16, lines 8-11; 15-17.)
"…eventually Invenergy backed off its wrong assertion of $180 – $120 million in capacity savings in just FCA-10. In Ryan Hardy's April 22 testimony, page 13, lines 20-21, Invenergy touts 'Capacity cost savings to Rhode Island ratepayers . . . to be $170 million from 2019 to 2022, or $42 million annually on average.' It is important to note here that in his testimony, Mr. Hardy gives no specific figure at all for projected capacity savings from just FCA-10. Instead, he sticks with a vague average over a period of several years.
"Mr. Hardy does not acknowledge in his April 22 testimony that his figure had changed radically from his sworn testimony before the EFSB on January 12, 2016, when he stated under oath that 'the savings from capacity costs alone is nearly 212 million…'" [January 12, 2016 Transcript. page 164, lines 6-14; and Slide 24.]
"Third, and importantly, nothing changed between March 31, when Invenergy publicly presented figures that were grossly wrong, and April 22, when Invenergy presented very different figures. The relevant FCA had occurred on February 8. Invenergy acquired no new information between March 31 and April 22. Thus, there was absolutely no reason for Invenergy to have presented inaccurate information to the EFSB and Burrillville residents on March 31."
Power plant not needed
Early on, Stix was asked if the New England electricity grid needs the proposed Invenergy plant.
Stix replied, "neither the New England electricity grid, nor the ISO, needs Invenergy in order to keep the grid reliable. Overall, in FCA-lO, the ISO procured fully 1,416 MW more than its ICR. Even if you subtract all 485 MW of the CSO acquired by Invenergy, the ISO would have still over-procured 931MW. And, here in the SENE zone, the ISO procured 1,321 MW more than its LSR Again, even if you subtract all 485 MW of the CSO acquired by Invenergy, the ISO would still have over-procured 836 MW in the zone The result of FCA-10 shows that the generation capacity that the Invenergy plant would bring to the electricity grid is not needed in Rhode Island, and is not needed in New England."
Inaccurate consumer savings
Stix testified that "[t]he irrefutable, bottom-line fact is that Mr. Hardy and [PA Consulting Group] wrongly predicted savings to Rhode Island ratepayers,just from capacity, and just from FCA-l0, to be between $118 and $120 million dollars. The actual figure was somewhere between zero and $36 million. Mr. Hardy's projected figure was 272% of the actual figure, and maybe much, much more than that. To put it another way, it is just not true to say that a predicted result of $118 million in ratepayer savings in one year "is very close to" ratepayer savings of between zero and $36 million. I doubt very much if Rhode Island ratepayers consider $118 million in one-year savings to be "very close" to zero to $36 million. And I doubt that the PUC will view it that way, either."
The second witness testimony presented by the CLF today is from Robert Fagan, a Principal Associate at Synapse Energy Economics, a research and consulting firm specializing in electricity industry regulation, planning and analysis.
Fagan also says the proposed power plant is not needed in both the short, medium and long terms. He says there is no "near-to-medium term reliability need for the proposed Invenergy plant," pointing out that "existing and projected energy efficiency and behind-the-meter solar PV resources in New England more than supplant the energy output of the proposed plant and support a reliable electric sector in Rhode Island and New England without the proposed plant" and "there is no longer-term reliability need for the proposed plant."
Fagan says that "Rhode Island and New England net loads… exhibit declining trends, contrary to the applicant's assertions." Invenergy claims that the ISO-New England Forward Capacity Markets indicate need, but as we have seen, they do not.
Further, Invenergy offers, "no evidence of any longer-term reliability or other need for the proposed plant. They incorrectly inflate the energy forecast need for Rhode Island and New England. Their narrative on alternative energy resources, including energy efficiency and renewable energy resources, is completely absent of any quantitative analysis of the effect of a portfolio of energy efficiency and renewable resource supply as an alternative to the proposed plant.
Looking to the longer term future of energy in Rhode Island, Fagan says, "When considering energy efficiency and alternative new resources including behind-the-meter solar PV, other solar PV (utility scale), onshore wind, offshore wind, Canadian hydro, demand response, and storage alternatives – in addition to existing capacity resources and a recently strengthened New England transmission system – near-term and long-term reliability of Rhode Island and New England electric power sectors can be assured without reliance on the proposed power plant."
Fagan also says that, "The applicant's failure to present any evidence of a long-term reliability need for the plant is significant, because absent such a need, I don't see how this proposed plant fits with Rhode Island state energy policy that, according to the applicant, emphasizes increasing energy efficiency, integration of renewable energy into the system, and achieving reductions in greenhouse gases."
CLF: Invenergy lied to public at EFSB hearing in Burrillville

,