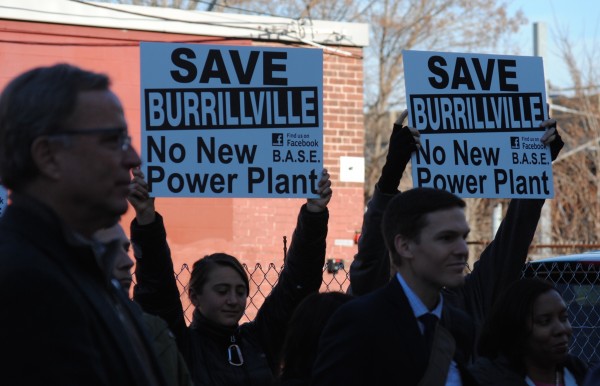 Lawyers for Invenergy have filed documents with the court objecting to the Motions for Intervention filed by several local property owners, activist groups and individuals. At contention is the proposed "Clear River Energy Center" (CREC), a 850-1000 megawatt power plant fueled by imported methane gas, to be built in Burrillville.
The Rhode Island Energy Facilities Siting Board (RI EFSB) has scheduled a preliminary hearing to consider Invenergy's application for January 12 at 9:30am. Public commentary will not be heard at this hearing, only those parties and participants granted intervenor status by the Siting Board will have a voice in the proceedings.
In their court filing, Invenergy objected to the following groups and individuals' motion for intervenor status: property owners Dennis and Kathy Sherman and Paul and Mary Boldue; activist and political groups Occupy Providence, Fossil Free RI, the Progressive Democrats of Rhode Island (RIPDA), Fighting Against Natural Gas (FANG) and  Burrillville Against Spectra Expansion (BASE); and Sister Mary Pendergast, as an individual.
Invenergy does not have "specific objections" to the intervention requests of the Town of Burrillville, the State of RI Office of Energy Resources, National Grid, the Burrillville Land Trust or the Conservation Law Foundation.
Invenergy contends that intervention should only be granted to "Parties that have either statutory rights to intervene, directly affected interests that will not be adequately represented by other parties, or special public interests that compel intervention as a Party."
Invenergy also objects to a separate motion "to extend the intervention period and to postpone the Preliminary Hearing" submitted by FANG and BASE.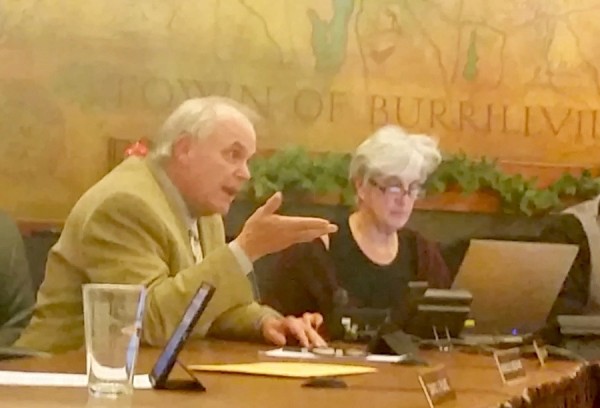 In their motion requesting a 45 day extension of the deadline to intervene, FANG and BASE argued that, "At the December 9th Burrillville Town Council Meeting, several residents voiced their confusion with the intervenor process and expressed frustration with the lack of information provided about the process. Residents posed questions to the Town Council that the Council was not equipped to answer." Note that the Town of Burrillville, though ill-equipped to answer rudimentary questions about the process at the Town Council meeting, is one of the groups that Invenergy says will "adequately" and "capably" represent the public interest.
The requested extension, maintains FANG and BASE, would allow "interested individuals and parties… more time to learn more about the intervention process, seek legal counsel and draft motions to intervene."
The Siting Board, according to the motion filed by FANG and BASE, sent out "the first announcement for the public hearing… on November 17th to only sixteen parties, most of whom were local or state government agencies or elected officials. November 17th was one week before the Thanksgiving holiday. The deadline for filing as an intervenor was set as December 22rd, leaving two days before Christmas and one day before Eid Milad ul­Nabi (the observance and celebration of the Prophet Muhammad's life). Also happening during the intervention period was the Hanukkah holiday from December 7th-­14th."
Residents affected by the proposed power plant's siting were informed of the process with little time to seek counsel or determine if their interests were to be covered by approved intervenors. At the December 9 Burrillville Town Council meeting, Town Manager Michael Wood told Kathy Sherman that the town council's job is to represent Burrillville, but that doesn't mean that the town council will be representing every concern of every resident.
Yet in their court filing objecting to intervenor status being granted to Dennis and Kathy Sherman and Paul and Mary Boldue, Invenergy claims that their interests will be adequately protected by the Town of Burrillville as a Party.
Invenergy objected to Occupy Providence, Fossil Free RI  and RIPDA being granted intervenor status because none of the groups is represented by a lawyer. The groups maintain that the rule cited by Invenergy is applicable to Parties, as legally defined, and not to participants. Further, Invenergy claims that the groups will not "be 'directly affected' by the project in a manner that will not be represented by other parties."
Hilariously, one of the Parties that Invenergy claims will represent the interests of Occupy Providence, Fossil Free RI  and RIPDA is National Grid, a company with a history of disregarding the concerns of Rhode Islanders and the environment in its endless craving for corporate profits.
Invenergy further claims that "interests related to carbon emissions and the state's overall energy policy will be more than adequately represented by other Parties" including the Governor's Office of Energy Resources. Governor Gina Raimondo has very publicly supported the proposed energy plant, so it is highly doubtful that the interests of Occupy Providence, Fossil Free RI and RIPDA will be represented by Parties advocating for her interests.
FANG and BASE were represented by a lawyer in their motion to intervene, but Invenergy says that these "grassroots organizations" will be "cabably represented" by the Conservation Law Foundation (CLF), the Town of Burrillville, the DPUC and the RI Department of Environmental Management.
This is another strange statement, because when I emailed Josh Block, the press secretary for the Conservation Law Foundation, he wrote back saying, "By intervening in the pending Energy Facility Siting Board (EFSB) docket, CLF will present multiple arguments as to why Invenergy should be denied a permit to build an expensive, long-lived, carbon-emitting fossil-fuel power plant. A proposal such as this which makes little economic or environmental sense has unsurprisingly garnered opposition from a large number of stakeholders, each with unique interests and perspectives. Thus, any assertion that CLF's participation in the docket is a reason for excluding other intervenors in the process is as misguided as the proposal itself." (Italics mine)
Sister Mary Pendergast, explaining her reasons for being arrested during a protest organized by FANG and BASE, said, "Pope Francis has called us all to an ecological conversion and he said it is essential and not an option." Her motion to intervene has also been opposed by Invenergy, apparently, because her philosophical and theological concerns will be "adequately" and "capably" represented by the corporate and governmental interests of approved Parties, which is errant nonsense.
The fact is that the interests of the people will not be adequately represented in these proceedings if these motions for intervention are denied. The interests of the public are routinely and bureaucratically sidelined by relegating our voices to public commentary hearings with no real power or weight. Invenergy, though, depends on these public hearings to provide the appearance of public input where there is none, saying, "There will be ample opportunity… to provide comments, views, oppositions and data, in the form of public comment, in writing or in public testimony, at the appropriate time…"
This is how the voices of the public are silenced. We are relegated to separate, lesser forums, scheduled after the real decisions have been made. We are allowed to speak only when our objections have been rendered moot. It is only after our rights have been sacrificed to appease corporate power and after our world is destroyed that our voices will be heard, and that will be too late.
The motions for intervention should be granted.
Invenergy attempts to sideline public input on proposed power plant in Burrillville

,