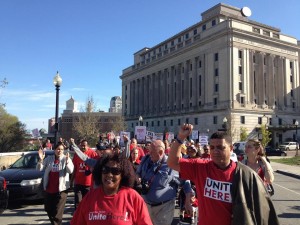 Regional Director Jonathan B. Kreisberg of the National Labor Relations Board (NLRB) out of Boston "issued a Government complaint and notice of hearing against the Renaissance Providence Downtown Hotel and TPG Hospitality, Inc., The Procaccianti Group's hotel management affiliate. The NLRB Complaint charges the Hotel with multiple unfair labor practices deterring workers from organizing to improve their low wage, low benefit jobs," according to a press release on the Joey Quits blog late Friday.
The press release continues:
Representatives of the hotel workers' union asked the Hotel to resolve the case by being neutral. The Hotel has refused. A trial before a federal labor judge is scheduled for March 31, 2014 in the NLRB's Boston office.

The Government complaint names thirteen different managers, including Elizabeth Procaccianti and Hotel General Manager Angelo DePeri.  The NLRB Complaint alleges multiple acts of interfering with, restraining and coercing employee organizing rights, including interrogation and illegal promises of benefits to induce workers to abandon union organizing. The NLRB Complaint cites The Procaccianti Group's TPG Hospitality affiliate for maintaining illegal work rules nationwide, including rules restricting communications and prohibiting employees from speaking to the media and the public about their jobs.

This NLRB Complaint comes after OSHA cited the Hotel in October 2013.  The Hotel ultimately settled with OSHA by agreeing to correct the workplace hazards and paying $8,000 in fines.

Julian Bello, a houseman at the Renaissance, said: "This is now the second time the Federal government is citing the Hotel for violating our rights.  Why does it think it is above the law?"

Citing the Hotel's coercive anti-union campaign, sweatshop workloads and sub-living wages, the workers called for a boycott of the Hotel on December 4, 2013.  While the law gives Hotel managers the right to force workers into mandatory anti-union meetings, the law does not force the public to patronize their Hotel.

The Unitarian Universalist Association (UUA) has already canceled over 800 rooms they had reserved for their General Assembly convention, to be held in Providence in June 2014. Jan Sneegas, the UUA's director of General Assembly and Conference Services, said, "The Unitarian Universalist Association is strongly committed to the fair treatment and equity of all employees in the workplace. When a labor dispute arises, it is our policy to review our contract with that company.  In this instance, the UUA decided to terminate the contract."

Renaissance workers currently make significantly lower wages and benefits than their counterparts in union hotels like the Omni Providence Hotel. The Procaccianti Group, has owned, developed or managed over 100 hotels nationwide and claims real estate assets exceeding $5 billion nationwide.
Labor Board sets trial date for Renaissance Hotel dispute

,