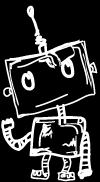 The popularity of Thomas Piketty's Capital in the 21st Century has conservatives and economic elites in a bit of lather. As they try to refute an economic reality that has become obvious to most everybody, they end up making some transparently deceptive arguments.
Take Larry Summers, who headed up the US Treasury Department at the end of the Clinton Administration and has served as a top economic advisor to Barack Obama. This PBS News Hour piece in which Piketty refutes the criticisms quotes Summers, saying:
Even where capital accumulation is concerned, I am not sure that Piketty's theory emphasizes the right aspects. Looking to the future, my guess is that the main story connecting capital accumulation and inequality will not be Piketty's tale of amassing fortunes. It will be the devastating consequences of robots, 3-D printing, artificial intelligence, and the like for those who perform routine tasks. Already there are more American men on disability insurance than doing production work in manufacturing. And the trends are all in the wrong direction, particularly for the less skilled, as the capacity of capital embodying artificial intelligence to replace white-collar as well as blue-collar work will increase rapidly in the years ahead.
This argument is specious in the extreme. It says, in essence, "It's not that elites like me are accumulating all this wealth; it's that the ROBOTS are making us accumulate all this wealth." Summers would have us think that robots are marching in from Robotland and taking over factories in some evil plot to destroy the middle class.
The reality is that economic elites have specifically developed these technologies to eliminate paid workers and increase profits for themselves. They know this, and now many other people know this. That second part kind of scares them because if enough people figure this out, they might actually do something about it.
Nota Bene: At no point does Summers actually say that wealth accumulation is not happening or that this factor is not what's driving economic inequality or that economic inequality is not a big, big problem. He just says that it's the robots that did it.