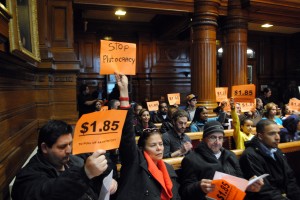 As the Procaccianti Group moves ahead with plans for a new hotel in downtown Providence, employees at another one of its downtown hotels will take their fight for fair wages to the City Council tonight. Employees and activists are requesting the Council pass a $15 an hour minimum wage ordinance for local hotel workers.
The Providence City Council will hold a public hearing to consider the idea today at 6:00 pm.
"I hope the Providence City Council does what is best for the average working mother like me and passes this ordinance," said Santa Brito, a housekeeper at the Renaissance Providence hotel. "As elections come around, it's a perfect opportunity to see who's in the pocket of big business and who actually stands with regular working people of Providence, people from the neighborhoods, people who vote and who they are supposed to represent."
Hotel employees at two Procaccianti Group-owned Providence hotels – the Renaissance and the Hilton – have been fighting to organize a union for years. The effort gained global attention in 2011, when local brass band What Cheer Brigade played backup to Joey DeFrancesco quitting his job at the Hilton. This year the employee strife has moved to the Renaissance, where activists say two employees have been fired for publicly protesting for higher wages.
Watch what Providence City Councilors are saying about the proposed minimum wage ordinance.
The Procaccianti Group, a property management company that owns and operates hotels globally, receives millions of dollars in tax breaks for the Renaissance hotel. Steve Ahlquist recently reported it lost its TAG accreditation for being LGBTQ friendly in 2013. The company would not comment on the matter. Today, the Providence Journal reports the Procaccianti Group would like to develop a third hotel in downtown.
"As a housekeeper in the Hilton Providence Hotel, I do grueling physical work and make only slightly above $9.00 per hour after eight years of service," Hilton housekeeper Andrea Hernandez said. "On this paltry wage, I live paycheck to paycheck and can only afford the bare necessities. If I earned just $1.85 more per room cleaned, I could shop at local businesses and invest in my home. The whole city would benefit. There are hundreds of hardworking women like me in Providence hotels who deserve better. We hope the City Council will step up for working women in Providence."
Hotel workers and their supporters will begin to gather in front of Providence City Hall today at 5:30. See the Facebook invite here.