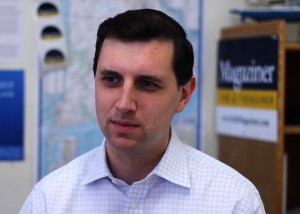 Seth Magaziner, Democrat for general treasurer, is the big winner as WPRI and the Providence Journal trickle out the results of its long-sought new polling data.
Magaziner leaped 20 points to 43 percent while his rival Frank Caprio went from 29 percent to 31 percent.
The ProJo called it a "a striking turn of events." for Magaziner.
"The poll confirms that Rhode Islanders are excited about Seth Magaziner's commitment to bring new energy and fresh ideas to the Treasurers office," said Magaziner's campaign manager Evan England, "and to make a clean break from the insider politics and mismanagement that have held Rhode Island back for too long."
England added, "It's time for a Treasurer who will use the office as a platform for economic growth and invest more in Rhode Island so we bring jobs back to Rhode Island."
Since the first poll, Magaziner released a popular TV ad that warns against insider politics. Meanwhile Caprio's younger brother resigned as chairman of the Democratic party amid a scandal about a public concession stand contract he won after a sitting legislator withdrew a winning bid.
You can watch my recent sit down interview with Magaziner here.