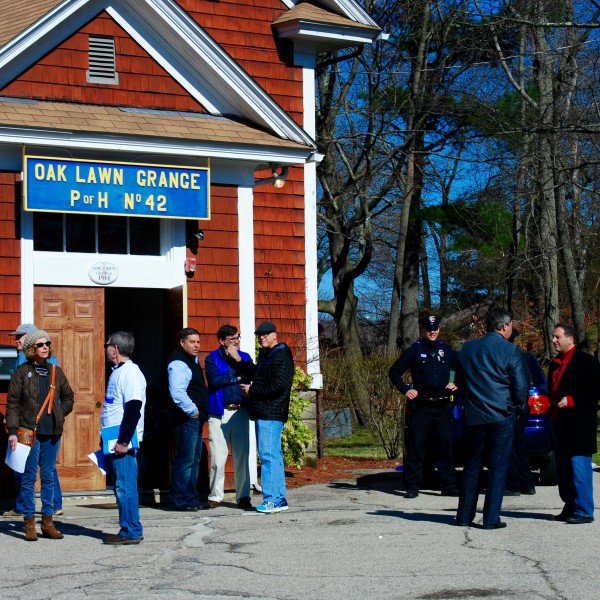 I got to the event a good half hour early. As I crossed the small parking lot outside the Oak Lawn Grange I was intercepted and asked about my business.
"I'm just here to take notes and a few pictures," I said, "for RI Future."
Pause. "We're not set up yet," said the man, "you'll have to wait."
"Okay," I said, "I'll sit over at the picnic tables."
"Sure," said the man, "Why not? It's a beautiful day out."
It was. I sat for a few minutes, reading my phone, when another man holding a clipboard approached me. We introduced ourselves. He was Leo Skenyon, Nicholas Mattiello's chief of staff.
"I don't know if we can get you in," said Skenyon, "We've got over 130 people coming, and priority will be given to Cranston residents."
"Okay, " I said, "I get that. I can stand. I just need to take some notes and a few pictures."
"We might get you into the basement with a TV," said Skenyon, "You'll be able to hear the answers, but you might not hear the questions."
"We'll see what happens then," I said.
I waited outside near the entrance, watching people arrive. I saw two people from the Rhode Island Coalition Against Gun Violence (RICAGV) handing flyers to passers by. One of them was Tom Wojick.
"Do you support common sense gun legislation?" asked Tom, holding out a flyer to a man and his wife.
"No," said the man, "I'm a NRA member."
---
I had taken a bus on a Saturday morning to the middle of Cranston to see Representative Nicholas Mattiello, the Speaker of the House and arguably the most powerful politician in Rhode Island, engage with his constituents.
This isn't an every day occurrence. Some reps have regular events with their constituents, some have none, but as Mattiello told the crowd, his duties as Speaker take up a lot of time, and he doesn't often get the chance to hold events like this. Today was a rare chance to see Mattiello engage with his constituents and hear what voters in Mattiello's district care the most about. [Spoiler: It's RhodeWorks]
Mattiello wasn't alone either on stage or behind the scenes. Organizing the event were about a dozen men delivering coffee and donuts, escorting people to their seats and acting as what seemed like de facto security. There were two Cranston police officers stationed at the event. In addition to Leo Skenyon, who was organizing, I saw Larry Berman, communications director for the RI House of Reps, helping out.
On "stage" with Mattiello were RI State Senators Frank Lombardi and Hanna Gallo, Rep Robert Jacquard and RI Department of Transportation director Peter Alviti, there to answer technical questions about truck tolls and RhodeWorks.
When I entered the Grange Larry Berman saw me and said, "He can come in," but behind me Leo Skenyon said, "He's taking a couple of pictures and heading downstairs."
That's what I did. Here's one: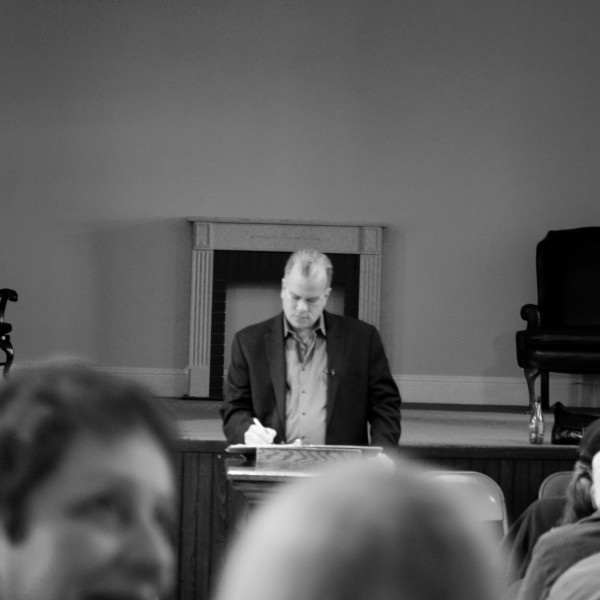 Downstairs in front of the TV was a man who was interested in RhodeWorks but happened to live in Providence, so he was sent to the basement with me. A minute later we were joined by Lorraine Savard, wearing a small version of her "Save Burrillvile: No New Power Plant" sign pinned to her lapel.
At least I was in good company.
We ended up watching everything on closed circuit TV, downstairs from the main event. We laughed when the camera upstairs went to a wide shot, showing at least seven empty seats in the main room. We laughed again when we noticed that the two police officers were in the downstairs room with us, leaving no police presence in the room above, where over one hundred people were in attendance.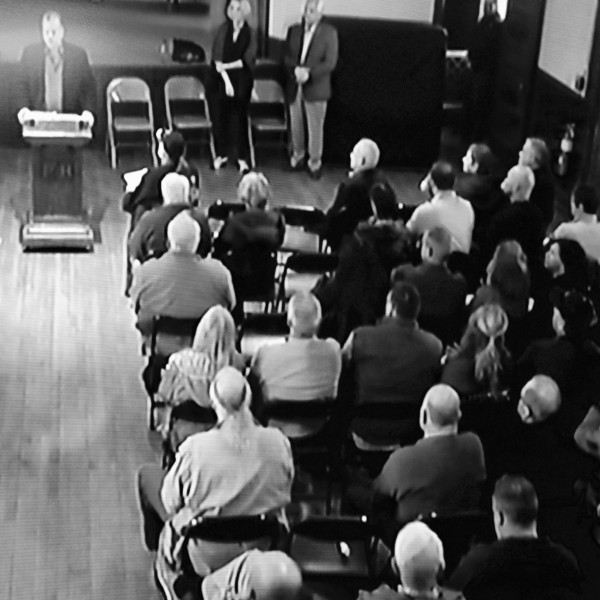 ---
Most of Mattiello's talk was a defense of RhodeWorks. One idea the Speaker was keen to dispel was that RhodeWorks was broadly unpopular. He said that he has in his district 14 thousand constituents and 10 thousand registered voters. When he counted the number of emails he received opposed to RhodeWorks, it was thirty.
"I don't believe that," said the man from Providence sitting next to me.
But I don't think Mattiello lied. People in Mattiello's district aren't that upset about RhodeWorks, or at least not upset enough to threaten him politically. Mattiello maintains that the reason people don't like RhodeWorks is because they are misinformed about it.
"We have a talk radio community," said Mattiello, "misinformation gets out through that medium" either through callers saying things that aren't true or talk show hosts repeating false information.
"Misinformation takes your vote away from you," said the Speaker.
Lombardi and Jacquard also defended their RhodeWorks votes. Lombardi said, "We live in a post 38 Studios world. RhodeWorks opposition is based on a distrust of [any] legislation, not on the plan itself."
Gallo went a different direction, touting the work she does on education, including full day kindergarten.
Eventually the question and answer phase of the discussion, nearly three hours into the event, got around to a subject other than RhodeWorks. A woman (it was very hard to hear the specifics of her question on the TV) asked about the three bills the RICAGV has brought forward, including the bill to prohibit people with concealed carry permits from bringing guns into schools.
"There are two sides to this issue," said Mattiello (who incidently has an A+ rating from the NRA), "There are those who want no change [to our guns laws] and there are those who want to abolish guns."
This opening surprised me. The RICAGV has worked hard to strike a nuanced position on guns, and here Mattiello was claiming that the group was simply seeking to abolish all guns.
As for guns in schools, said the Speaker, "Please tell me where this has been a problem. And if its never been a problem, you're affecting the rights of law abiding citizens."
Mattiello gave the hypothetical situation oaf a man with a concealed carry permit picking his kid up at school. Is he supposed "to leave his gun on the sidewalk? Leave it in his car where it might be stolen, or drive home and drop it off first?"
"In trying to solve a problem you're creating a bigger problem," said the Speaker.
Guns are not allowed in courthouses or airports, countered the woman (and I might add, not allowed in the State House where Mattiello works either.)
Senator Lombardi cut in at this point, saying that the problem isn't gun owners, it's the mentally ill accessing guns. Columbine and Sandy Hook were the results of mental illness, said Lombardi, not lack of gun control.
"If," said Lombardi, "God forbid, a [gunman] goes into a Cranston school, I hope the first person he sees is a law abiding citizen with a concealed carry permit."
"We have to address the mental health aspect of this equation," added Mattiello, "People with concealed carry permits are not the problem. I don't think they've ever been the problem."
Mattiello's last words on the issue of guns were, "You can affect the behavior of people who respect the law, but not the behavior of those who don't respect the law."
That kind of makes me wonder why we pass any laws.
---
The next question was about the ethics commission.
"Senator Sheehan's bill is the worst bill I've ever seen," said Mattiello, "I can't imagine supporting that bill because it make's no sense to me."
"Conflict of interest rules are 'gotcha' politics," said the Speaker, "lawyers in the General Assembly serve clients across the country. Technically they are always in conflict of interest. They would never vote!"
Mattiello feels that Sheehan's bill will encourage "frivolous complaints". "What's going to happen is good people are not going to want to run [for office]," said the Speaker.
"Most people in government are extremely ethical," continued Mattiello, "Everybody up there, I believe, is entirely ethical and good."
Mattiello seems to believe that the job of identifying conflicts of interest falls to the fourth estate, saying, "Kathy Gregg is a great reporter. She points out every conflict of interest."
Somewhat echoing his last word on gun control laws, Mattiello said about ethics, "Ethics commissions don't make better people. That's [the electorate]'s job."
---
Other random things of interest Mattiello said during the meeting:
"I disagree that the Speaker is the most powerful person in the state. Sometimes it's the governor."
Ex-Speaker Gordon Fox, now in prison, "had his problems but he did good things policy wise."
"I don't believe in trickle-down economics. I just want to be competitive with our neighboring states."
"Rhode Island right now is in excellent shape."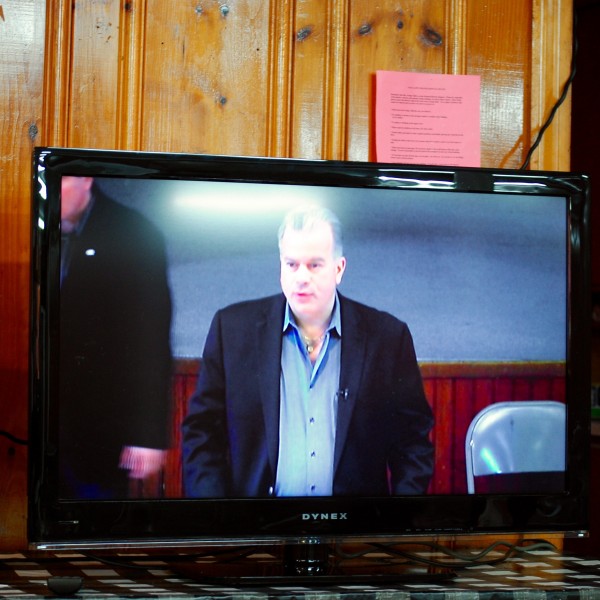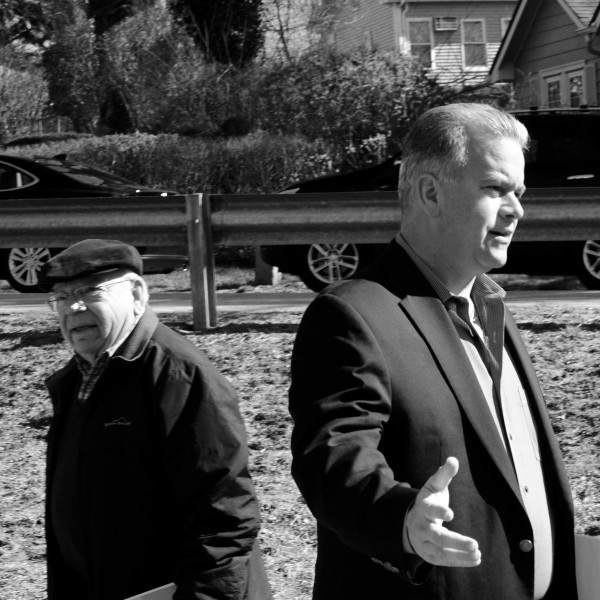 Mattiello at the Grange

,