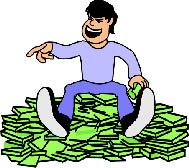 A friend of mine just had a tragedy in the family—his grandmother passed away. It has been difficult for him, but the good news is that his grandmother lived a rich, full, and happy life and died surrounded by a large and loving family.
But talking to my friend really got me thinking about some of the major assumptions that inform public policy in this country, particularly the idea that America is a meritocracy. My friend's grandmother was a very wealthy woman, and she left her grandchildren each with substantial trust funds (and by substantial, I mean substantial — as in as much money as I will ever make in my entire life if I continue in the non-profit/community organizing field).
We might think that a nation as deadset against "free handouts" as ours would try to restrict this most extravagant of free handouts. But the reality is quite the opposite — the United States greatly subsidizes these kinds of handouts by taxing capital gains and estates at a far lower rate than any other industrialized nation in the world. What we say in this country, in effect, is that it's more important to ensure that a friend of mine on one end of the socioeconomic spectrum get wealth he did not actually work for than, for example, another harder-working friend of mine be provided with bus passes so that he can get to school every morning without having to walk nearly three miles through the winter chill.
It's just hard for me to understand how folks can claim that legitimate social services designed to help those constrained by structures of inequality will create dependence and a lack of initiative, but the ability to live comfortably the rest of one's life without doing a lick of work is alright as long as its restricted to those who are already greatly privileged. If anyone can explain to me how that can possibly make sense, I'm willing to listen. Until then, I will remain confused.
Meritocracy or hypocrisy?

,