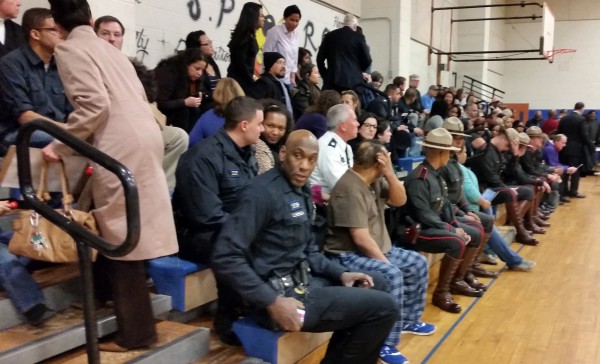 Saying a "deficiency in agency diversity" exists in police departments across Rhode Island, the NAACP Providence Branch has asked the National Association of Black Law Enforcement Officers to review the racial diversity and hiring practices of every police department in Rhode Island.
"It's part of making sure police departments are reflective of the communities they serve," said Jim Vincent, president of the NAACP Providence Chapter. "We're going to learn the diversity make-up for every police department in Rhode Island, and where that diversity is in terms of hierarchy."
The study will look at every municipal police department an the state police, said Vincent. It will be ready soon, said Charles P. Wilson of NABLEO.
"After a 3-month process of gathering and analyzing data, we anticipate releasing the formal study sometime next week." he said in an email. "The training program, entitled 'Identifying Barriers To Diversity in Law Enforcement-A Community Affair' will be presented Friday, April 17, 2015 and will be sponsored by NABLEO, the Providence Branch NAACP, and the Roger Williams University School of Continuing Studies."
A press release from the NAACP Providence Chapter said, "NABLEO will conduct both a survey of all law enforcement agencies to determine the number of minority officers employed, how recruiting information is published and disseminated, and the strength of outreach measures used to notify possible candidates, as well as a training program to be offered to both law enforcement and community members on enhanced methods for recruiting qualified candidates of color."
In a subsequent interview, Vincent added, "We really don't have a good feel for the number of African American and Latino and Asian police officers in Rhode Island." Though, we already know Providence police doesn't look like the Providence community.
In December, Alex Krogh-Grabbe reported that Providence police is among the least racially representative police department in the nation. He wrote, "the 444-officer Providence Police Department is 76.3 percent White, 11.7 percent Hispanic, 9.0 percent Black, 2.7 percent Asian or Pacific Islander, and 0.2 percent American Indian. According to the 2010 U.S. Census, the city as a whole is 37.8 percent White, 38.3 percent Hispanic, 16.1 percent Black, 6.5 percent Asian or Pacific Islander, and 1.4 percent American Indian."
In a statement, Providence Public Safety Commissioner Steven Paré told him at the time, "Recruiting a diverse workforce is always a priority. We hired two recruit classes for the PFD and one recruit class for the PPD. It was one of the most diverse classes we've had in our history. Our goal is to mirror the community we serve. The challenge is to reach out to the available workforce in the region and recruit the best candidates."
NAACP studies racial representation of RI police departments

,