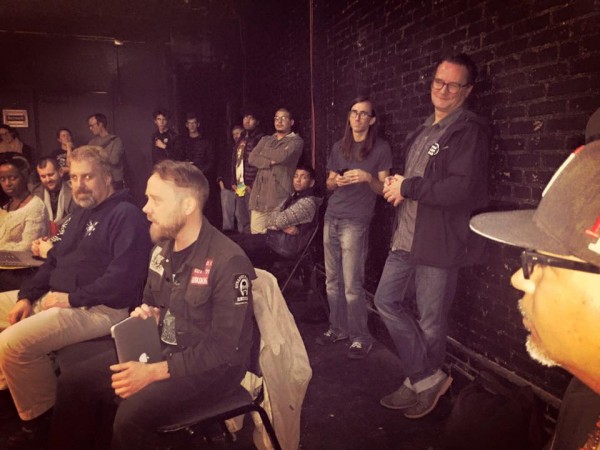 Starting next Summer, if all goes as planned, Providence will be home to a new low-power FM community radio station. APB Radio, 101.1 FM is a collaboration between AS220, Brown Student and Community Radio (BSR) and Providence Community Radio (PCR), all nonprofits. The three groups partnered to strengthen their application with the FCC, beating out competitors for what may well be the very last low-power FM radio station license in this area.
Airtime will be split three ways on the new station, with AS220 taking 50 percent of the airtime, PCR programming at least 10 hours a week and BSR the rest. The schedule is staggered and complex to avoid any one group being consigned to the midnight to morning slot, and will probably change going forward.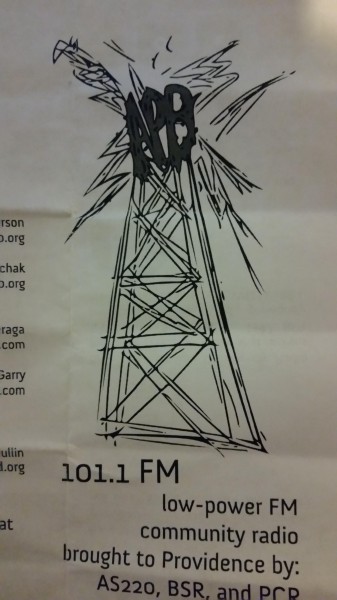 The groups will collaborate on the construction and fundraising phase of the project. Total projected cost is estimated at $25,000. The plan is to mount their antennae on the PBS television tower located in the Cranston St Industrial Park in South Providence. The station will run at about 100 watts and reach a three and a half mile radius.
APB Radio will be advertiser free, supported through underwriters, grants and other means. Almost all content will be developed by the community, and of course it will be parallel streamed on the Internet.
"Providence can communicate with itself in real time," enthused PCR's Wesli Dymoke.
Local poet, activist and performer Jared Paul was on hand to give a flavor of what community driven radio might be like.  Reza Clifton and José Ramirez from the BSR show Sonic Watermelons interviewed Paul live as a live demo of Sonic Watermelons, a show they currently do on BSR which would move to APB radio when the station begins broadcasting.
"I'm excited that the radical community in Providence will get to have a crazy amount of shows on the radio, in a central location," said Paul during the interview.
Questions from the audience concerned foreign language shows. Right now there are more than 29 non-English languages spoken in Rhode Island said a presenter, and commercial radio serves maybe five of them. 101.1 may be able to cover some of that gap.
Another question concerned BMI and ASCAP, music licensing groups that AS220 is currently boycotting. Will that boycott extend to 101.1?
"No, it will not extend to 101.1. BMI/ASCAP do not collect radio licensing fees," was the answer.
In the immediate future the station needs money, fundraising, organizing and marketing. An Indiegogo fundraising campaign is planned for January, and the groups will need help putting together a video for that campaign.
All in all, this is an exciting opportunity for Providence, said Dymoke of PCR, but, "if we fumble it, we don't get another chance."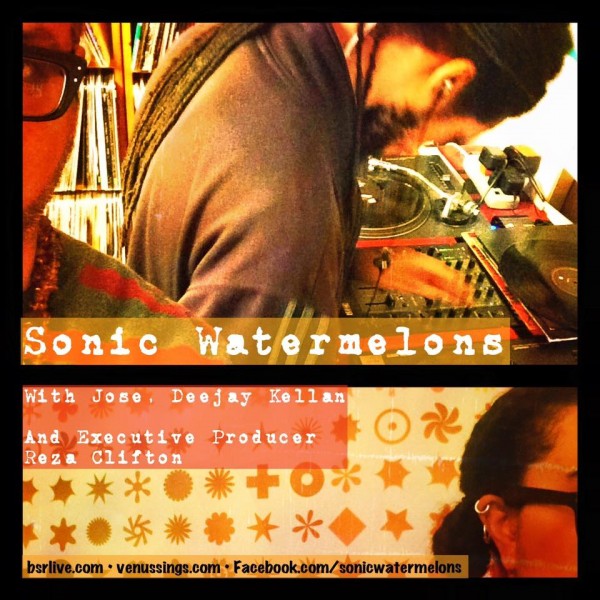 New low-power FM community radio station coming to Providence

,