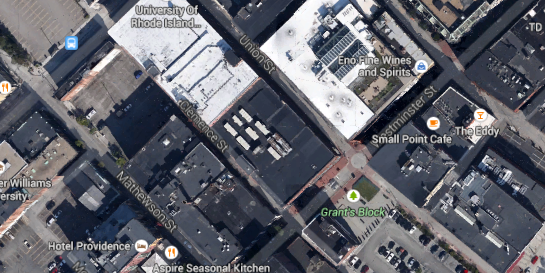 Central Falls, Cranston, East Providence, North Providence, Pawtucket, Providence, and Warwick belong to the upper Narragansett Bay watershed. All of these communities except North Providence have been cooperating in studies of how to prevent stormwater overflow in the region. Phase I of the study is already complete, and Phase II is being worked on. Phase I essentially explores the problem, while Phase II will look into proactive solutions.
The problem, summarized briefly, is that the more impermeable surfaces the region has, the more of our fecal matter goes into the bay when it rains. The plan is to think strategically as a region about how to address the amount of impermeable surfaces we have.
A stormwater management district will assess some kind of fee, usually in people's water bill, according to what kind of impermeable surfaces the user has. Ratepayers will be able to get credits for improvements to their properties that fix their stormwater issues. Assigning appropriate fees and credits is paramount.
But impervious surfaces aren't all equally bad.
None the less, frequently advocates have turned to a measure of success based on the percentage of land that is impermeable, with the target percentage being under 10 percent. Percentages hide more than they show:
Percentages lie
The highest percentage of impermeable surfaces in the region is in Central Falls, at 66.4%. Providence and Pawtucket are close behind. By contrast, suburban areas like Cranston, East Providence, and Warwick look to have half as much impermeable surface percentage covered.
If you look at the absolute surface area that is covered, it's clear that Central Falls has the least area that is impervious. In a way this is common sense, because Central Falls is small, but the intuitive thinking about protecting water from overflow pollution is that a lower percentage is better. A really stark illustration of this is in the contrast between Warwick and Providence, for instance. Providence is almost twice as impervious as Warwick by percentage, but by absolute area the two are about equal!
Absolute numbers aren't even giving the full picture.
If you go deeper still, you see that the per person impervious area is very small in the dense cities, and very high in the suburbs. Each of the 19,378 Central Falls residents has about three-hundredths of an acre of impervious surface to their name. In Warwick, it's almost a full tenth of an acre per person, about three times as much per capita.
Not all impermeable surfaces are equal
Not every square foot of impermeability is equal, and a future stormwater district should not treat them as such. These images are roughly to scale (100 ft level on Google Maps). The top image is part of Warwick Mall, and the bottom one is part of Downcity, Providence. It's really a toss-up as to which one has more impermeable surfaces. I might be inclined to guess that Providence has slightly less green space in this shot. It's a clincher. But it's very clear which neighborhood is making productive use of land.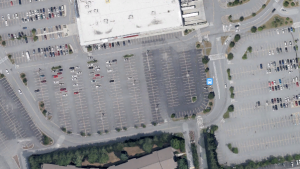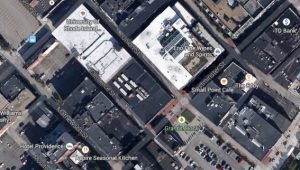 Incentivizing behavior
Phase II of the study, which is not yet completed, will look at solutions. We should be on top of this process to make sure that it incentivizes the right behavior, instead of green-washing the problem.
The Providence image shows that past errors have led to some knocked out teeth in the downtown, now as "temporary" surface lots. A stormwater district should make it clear that it is a positive benefit to the community to redevelop a surface lot into a building, even if the exact same impermeable surface remains. Surface lots don't just create their own individual problems, but are the lead on land use and transportation misalignments across the board. When there's a lot of parking, fewer people can live in downtown, and more people will need to drive, leading to wider roads.
The only policy measure floated about parking in the report is about using more permeable surfaces for lots (Central Falls already does this at its Ledge Street municipal lot). On page 87-88, the report states:
It is not enough to simply provide funding for the stormwater program, property owners need to help manage stormwater on-site, at the point it is generated. For example, roof runoff can be directed to a dry well on the property, and depending on the size, parking lot runoff can also be "disconnected" by draining to a lawn area, rain garden or other on-site infiltration or treatment system. Improvements made by property owners reduce the volume of runoff that must be managed by the town and thus reduce the town's overall stormwater program costs.
To me, this line is like trying to trot out the best new fashions in colostomy bags in lieu of offering preventative measures against colon cancer. Why would we make deeper investments into unproductive land uses in order to deal with a surface symptom of the problems they cause?
The surface lot in the image of the Warwick  Mall, which is only a tiny piece of the much larger lot, is not something to be tweaked with an underground treatment system. Of course, kudos on making the owner of such a lot pay for the system him/herself, because it's much better than having ratepayers see increases in their water bills. But the true solution we should be pushing for is recognizing the cancer of surface parking as what it is so that we can root it out.
Houston, we have a problem
We should look to our past mistakes with stormwater management to make sure we don't repeat them. Houston is a stunning reminder that not all impermeable surfaces are the same. Houston had a huge stormwater pollution problem, which the EPA approached by disallowing new stresses to the sewer system (i.e., buildings with sewer connections) unless other stresses (other buildings) were removed. Houston developers replied to this well-intentioned regulation by tearing out neighborhoods and replacing them with towers in glimmering fields of asphalt parking lots. The problem remains to this day, and Houston's downtown would make Warwick Mall blush.
The problem is discussed at some length in this Streetfilms video on parking craters.
Parking Craters: Scourge of American Downtowns from STREETFILMS on Vimeo.
The approach we take needs to understand that parking and wide roads are some of the biggest and most wasteful public liabilities we have, and that rooftops, though impermeable, are not. A surface lot induces more impermeable surfaces and gives the community nothing in return. A building helps to reduce the need for other surfaces, like roads or lots, by adding density, and gives the community economic development that it can use to eventually pay for even greater improvements, like street trees or green roofs.
This is not an idle point. I've only had informal conversations with Providence officials about this, but those officials have expressed a kind of quiet embarrassment about what they see as the city's being behind on stormwater, and needing to catch up to Warwick and Cranston. With this attitude in hand, I'm concerned about what might result.
We need to make sure that those who are writing a stormwater management system do not blame urban areas by misusing the data, and focusing on percentages of impermeable surfaces. The absolute surface area and the per capita area are far more important. Under this analysis, areas like Central Falls are giving the state a credit through their lifestyle everyday, while residents in Warwick are detracting from the health of the state. The fee system set up for stormwater management should reflect this.
~~~~
Small correction: The Streetfilms video mentions Dallas, not Houston. Although, truth be told, Houston does in fact have the same problem. See for example this post from the Final Four competition at Streetfilms' sister site, Streetsblog. In any case, the point is that we definitely don't want to follow Texas in anything land use related. It's a bad scene all around, and we can do better.
Not all impervious surfaces equal when it comes to stormwater

,