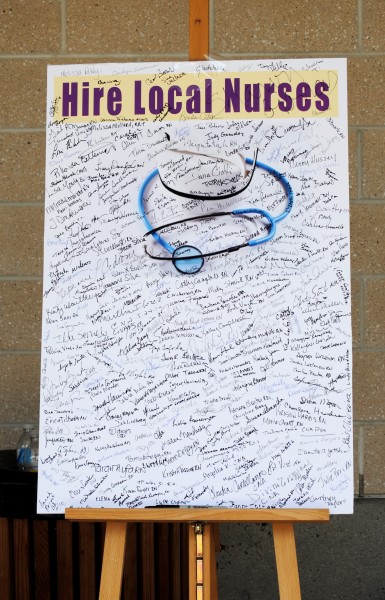 An all day picket was held at Women & Infants Hospital yesterday to call attention to the problem of temporary, out-of-state "travel nurses" filling scheduling holes than hiring in-state nurses graduating from one of the many fine colleges offering nursing degrees in Rhode Island.
"There are many qualified graduates from our numerous nursing programs looking for jobs," said Patrick Quinn, executive vice president of 1199 SEIU New England, "so it baffles me that Care New England management would take advantage of all the tax breaks of a non-profit but not give back to the community when we have such a high unemployment crisis."
Care New England is the company presently managing Women & Infants.
Hiring travel nurses means that the salaries leave the state when the nurses are done. There are no savings in terms of wages as travel nurses make two and three times the standard rate of pay. Further, all full-time permanent nurses are given weeks of in house training and orientation that the temporary travel nurses skip. They are simply plugged into scheduling holes without any real orientation or training in hospital specific policies. This creates even more work for the regular staff, who spend time correcting the mistakes of the travel nurses.
Given these issues, why use travel nurses? To avoid hiring more union workers, of course.
This is just another example of a company engaging in dangerous, impractical strategies to avoid treating workers with respect and dignity. Even as the ACA funnels millions of new dollars into the health care industry, private companies, eager to squeeze ever more profits for their shareholders and overpaid CEOs, take shortcuts at the expense of their staff and patients.
My wife and I went to Women and Infants over 20 years ago to have our three children. The experience was top notch, and the nurses were fabulous. To think that the new management might threaten the reputation of such a fine hospital by playing games with the quality of the staff is appalling. As Wendy Laprade, a Registered Nurse in the Labor and Delivery Room said, "Women & Infants… will only remain the premier women's hospital in Southern New England if we hire and train the next generation of RN's."
With all the talk surrounding a new nursing school being built in Rhode Island, and knowing that there will be a huge demand for nurses as the population ages over the next decade, Care New England's policy decisions seem extremely short-sighted and counterproductive. Currently there are 30-35 traveling nurses estimated to be working at Women & Infants. This Pro Publica piece from 2009 highlights some of the dangers these policies exacerbate.
Supporting the union effort at Women & Infants were several other unions, as well as gubernatorial candidate Clay Pell and many other candidates for office. Also out in full support of the union's efforts were three of the four hunger strikers, Shelby Maldonado, Mirjaam Parada and Yilenny Ferrares, and other hotel workers who worked so hard for a living wage in Providence, only to be cut down by backroom dealings in the General Assembly.