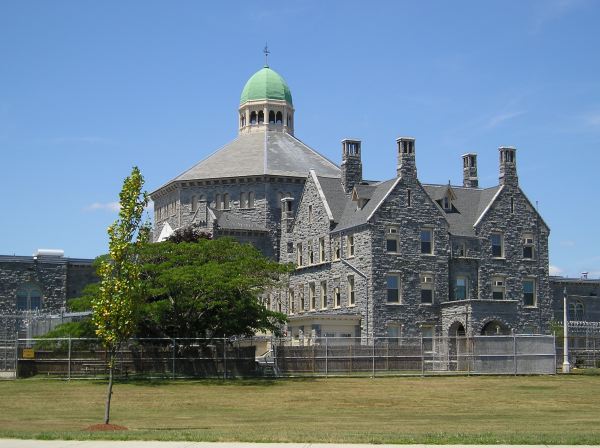 This fall, I visited a class of smart and engaged Rhode Island students. They seemed a lot like other students I've visited over the years:  They asked good questions.  They shared their experiences openly. They thought critically about what others said.  They were respectful.
But unlike other students I've visited in the past, this group was serving time at the Rhode Island Adult Correctional Institution's medium-security facility in Cranston. They were earning credit toward a college degree from the Community College of Rhode Island, and participating in the Prison Op-Ed Project, one of several training, treatment, and educational programs designed to give inmates a better chance of staying out of trouble when they leave prison.
Completing this type of course has proven a smart investment of inmates' time and of our correctional system's resources.  Since Rhode Island in 2008 introduced a number of new policies and programs designed to better prepare inmates for life after release—things like college courses, drug treatment programs, and job training, combined with requirements for good behavior— incarceration rates in Rhode Island are down 17 percent. We've also seen a six percent drop in recidivism rates and a decrease in crime.
Those numbers are encouraging, and it's not just Rhode Island that's seen this kind of progress.  My partner on federal legislation to reduce recidivism is Senator John Cornyn, whose home state of Texas has engaged in similar efforts. We've cited Rhode Island, Texas, and other states' successes to show how programs that help prisoners avoid returning to crime can reduce our federal prison population and incarceration costs.  Our proposal is now part of the comprehensive criminal sentencing reform bill that has passed out of the Judiciary Committee and awaits a vote in the Senate.
We should pass the sensible Senate sentencing reform bill and put Rhode Island's successes to good use in our federal system.   We'll realize the benefits not only in our federal system, and it may help move other states around the country.
One of the members of the class I visited noted how difficult it is for former inmates to access good substance abuse treatment after release.  Another pointed out how former inmates often go without health insurance in spite of serious health conditions.  Other Rhode Islanders returning to life after prison have told me how difficult it is to get a job without clothes to wear to an interview or don't have internet access to search for openings online. These problems also contribute to the cycle that leads former inmates to re-offend and return to our over-burdened prisons.
There are smart, well-informed people in our corrections system, with first-hand perspective of the challenges of meaningful reform. I'm grateful to the Prison Op-Ed Project for giving them a voice as we work to fix our overcrowded, expensive prisons.
---
This post is published as part of the Prison Op/Ed Project, an occasional series authored by CCRI sociology students who are incarcerated at the Rhode Island Adult Correctional Institute.

Prison Op-Ed Project gives inmates a voice

,