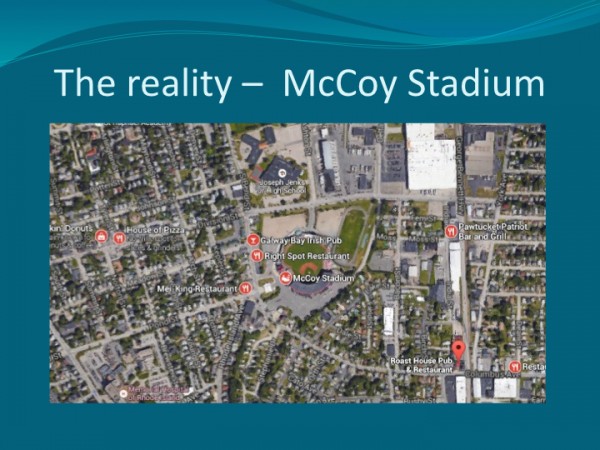 The Providence Foundation's report in favor of building a new stadium in downtown Providence for the PawSox  reads as a sales pitch for the PawSox owners rather than as a sober economic analysis of the pros and cons of a stadium being built downtown with public funds.
Identified as a "business-backed group" and "an affiliate of the Greater Providence Chamber of Commerce," The Providence Foundation released this report recommending that "the state, the city, the I-195 Commission and the [PawSox] team owners" come to an agreement and build a new stadium downtown.
Unfortunately, the first third of the report, in which the economic and "catalytic" effects of the proposed ballpark on "real estate development, economic development" and job development, commits egregious methodological errors.
The authors of the report reviewed eight "downtown stadiums" and came to the astounding conclusion that, "in all cases… [the stadiums] have been major factors in the increase of restaurant and retail sales in the area. The facilities have assisted the tourism and convention business and, in some cases, are selling points in the attraction of new companies into the respective cities."
The stadiums selected for analysis were:
BB&T Ballpark, Charlotte, NC
Chickasaw Ballpark, Oklahoma City, OK
Durham Bulls Athletic Park, Durham, NC
Fifth Third Field, Dayton, OH
Fifth Third Field, Toledo, OH
Huntington Park, Columbus, OH
Regions Field, Birmingham, AL
Southwest University Park, El Paso, TX
No criteria is given as to why these eight stadiums were selected to be reviewed by the report or why dozens, if not hundreds of other sports arenas nationwide were left out. Could this be because the eight stadiums were hand selected by PawSox owners as representing the best eight examples of successful stadium building across the country? I asked Daniel A. Baudouin, executive director of the Providence Foundation for clarification on this point.
"[W]e selected stadiums that were in downtown areas that were constructed/renovated recently and ones that have some geographic diversity" he said in an email to RI Future. "We could have selected more stadiums that were built less recently and as we understand it, have been successes in being a positive force in downtowns (Memphis, Buffalo, Louisville, Norfolk)."
Three of the stadiums included in the report, Durham, El Paso and Toledo, were specifically mentioned by late PawSox owner James Skeffington in conversation with Dan McGowan back in February as models for the proposed Providence stadium. Skeffington mentioned BB&T Ballpark to reporters on April 2 during a tour of the I-195 land. Dayton is mentioned as an model ballpark by Skeffington in this Projo piece. Birmingham is showcased on the Baseball RI site that the PawSox owners are using to sell the idea of a downtown ballpark while Oklahoma is mentioned on the Baseball RI site here.
With all but one of the Providence Foundation's case studies having been vetted by James Skeffington and the PawSox owners, people who stood to make millions from the proposed ballpark, it's small wonder that the report was favorable.
Speaker Nicholas Mattiello's stadium consultant Andrew Zimbalist said in 2009 that, "One should not anticipate that a team or a facility by itself will either increase employment or raise per capita income in a metropolitan area."
Sports economist Victor Matheson, who spoke at the Blackstone Valley Visitor's Center on May 13, agreed with Zimbalist. There is, said Matheson, "remarkable agreement among economists finding that spectator sports result in little or no measurable economic benefits on host cities," said Matheson.
"To your question on overall economic benefits," said Baudouin, "I will leave that to economists; we did not analyze the macro-economic impact." That's a fine distinction to make, except that one of the questions the report was trying to answer is, "Will the stadium be a positive force/catalyst for real estate and economic development in the vicinity of the stadium?" That's a macroeconomic impact by definition.
In addition to picking only those examples that might prove the case they wanted to make, The Providence Foundation failed to mention the "substitution effect," described by sports economist Brad Humphreys, in this piece by Melissa Mitchell:
As sport- and stadium-related activities increase, other spending declines because people substitute spending on sports for other spending. If the stadium simply displaces dollar-for-dollar spending that would have occurred otherwise, there are no net benefits generated."
So how did the Providence Foundation come to such a radically different conclusion from all experts in the field of sports economics?
They cherry picked the data, of course.
Cherry picking, or suppressing evidence, is "the act of pointing to individual cases or data that seem to confirm a particular position, while ignoring a significant portion of related cases or data that may contradict that position."  It's a well known logical fallacy, but when done intentionally, it is less an error than it is an attempt to deceive.
Whether by accident or design, The Providence Foundation report on a potential downtown Providence ballpark is not of high value, and its issuance calls into question the putative logic behind all the economic positions maintained by The Providence Foundation and the Greater Providence Chamber of Commerce. Both groups regularly lobby state and local legislatures on a host of issues, such as minimum wage and progressive taxation.
It is way past the time to stop seeing the claims "business backed groups" as factually grounded, but to instead recognize them as sophisticated sales pitches.
Providence Foundation stadium report cherry picks data

,