Saturday's Pride parade and festival marked almost two years since the legalization of same sex marriage in Rhode Island. There was an air of celebration, with live music, dancing, and plenty of displays from large corporate sponsors. However, activists from PrYSM (the Providence Youth and Student Movement), supported by DARE (Direct Action for Rights and Equality), marched in the parade to demand racial and immigration justice.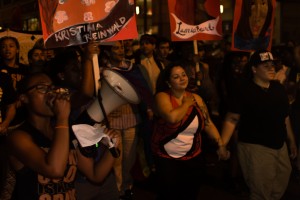 The history of Stonewall was alluded to throughout the event. But fifty feet in front of Bank of America's procession, Ron Lewis and José Lamoso reclaimed Stonewall, centering the narrative around Sylvia Riviera and Marsha P. Johnson, two trans women of color who were the first to resist arrest on the fateful night.
Johnson and Riviera were the first to stand up against the police, and the first to be excluded from the Gay Rights movement when they were deemed unacceptable.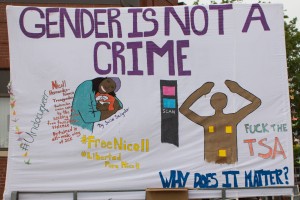 After Lewis and Lamoso finished speaking, PrYSM's float showed how gender and race become criminalized, subjecting queer and trans immigrants and people of color to police violence and harassment.
#FreeNicoll is a movement aimed at securing the release of Nicoll Hernandez-Polanco, a trans woman from Guatemala who traveled to the United States seeking asylum. Ms. Hernandez-Polanco was detained in an all-male wing for six months between her arrival in October 2014 and her bonded release on April 22nd, 2015. As a result of this placement, she experienced abuse from her male guards, including offensive comments and gestures. Hernandez-Polanco has stated that she experienced multiple incidents of being groped by the prison staff. Her $3000 bond was gathered by a successful crowdfunding effort. Her asylum request was granted after she was released. However, Justice Department statistics show that less than six percent of the asylum applications received in Fiscal Year 2015 were granted.
The detention of Ms. Hernandez-Polanco illustrates major shortcomings with the State Department's LGBT policies. Her asylum request was granted after six months of pressure from immigration and trans activists. However, the State Department has not issued any guidance specific to transgender asylum seekers. Five months prior to Ms. Hernandez-Polanco's detention, the State Department issued a press release detailing its position on LGBT rights issues. However, the listed policy objectives were primarily limited to lobbying foreign governments to decriminalize same-sex conduct between consenting adults. This stated policy does not address the myriad of legal issues and governmental abuses that are specific to transgender people, including detention policies, access to medical care, and policies to change name and legal gender assignment. While the State Department had implemented a LGBT training program for personnel managing refugees and asylum seekers as of May 2014; this training program was only mandatory for new hires. It is not clear how many of the personnel in the Arizona office, where Hernandez-Polanco arrived, had received this training.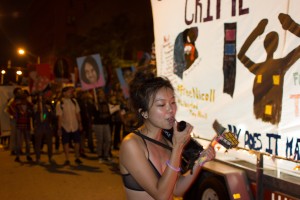 However, the US government's lack of trans-specific guidelines and accountability affects many other government agencies. TSA screening policies require all passengers to submit to some form of security screening. Passengers can choose between the TSA's Advanced Imaging Technology (AIT) machines, which image the body electronically, or undergoing a pat-down examination. However, both of these present specific challenges to the transgender community. The TSA has upgraded the current inventory of AIT machines with automated threat detection software after years of lobbying by privacy advocates. Previous technology presented a TSA officer with explicit imagery of the passenger's body, including breasts and genitalia. According to the TSA, the automated systems are capable of detecting specific threats (for example, an object shaped like a gun or a knife) and then overlaying this threat on a generic human outline. However, the system requires the operator to enter the sex of the passenger.
For some transgender people, this may result in genital and breast areas registering as "anomalies," requiring invasive examination by a TSA officer. This can also be caused by body-shaping garments such as binders, which are commonly used in the trans community to reduce the size and appearance of breasts.
The National Center for Transgender Equality (NCTE) has collected data on the experiences of transgender passengers as part of the National Transgender Discrimination Survey (NTDS). The survey showed almost 20% of transgender people have experienced harassment or disrespect associated with security or other check-in processes. The TSA has created a training program addressing trans issues. However, this program is intended for use only by individuals tasked with passenger support, not by the screening officers themselves.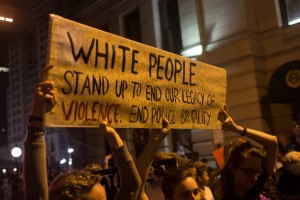 Next, the float addressed the realities of police violence and profiling, as experienced by queer and trans people of color.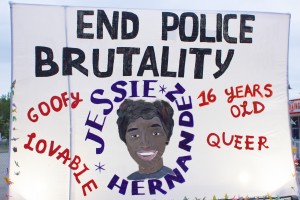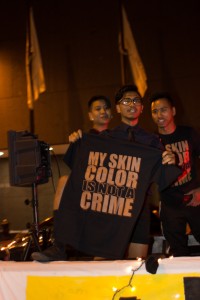 Throughout 2015, far too many youth of color have had their names become hashtags as they are the latest victims of police violence. Jessie Hernandez was a 16 year old queer Latina who was killed by a police officer. Over the last year, the LGBT community has publicly mourned the tragic suicides of those who were lost. Leelah Alcorn's death was observed, though often the response was dominated by the non-trans majority in the LGBT world. However, it is necessary to acknowledge the tragedy of LGBT youth killed by police violence.
Police profiling is a major concern for trans women of color, who are profiled and subject to detainment as perceived sex workers. In Phoenix, Arizona, a campaign has been built around Monica Jones, a Black trans women who was arrested under Phoenix's "manifesting prostitution" ordinance. Jones' conviction was vacated in January 2015 when it was determined that she did not receive a fair trial. The ACLU and local activists have decried the ordinance, which criminalizes intent to sell sex. The ordinance defines "engaging passer-by in conversation" and "asking if someone is a police officer" as intent, even though there are many other contexts in which these actions could occur. In this case, the arrest is made at the discretion of the officer, and the officer's prejudices.
Jones' trial brought media attention to the profiling experienced by trans women of color. In this case, Jones was brought to trial. However, this suspicion of being a sex worker provides probable cause to question and temporarily detain trans women of color, and is hardly limited to Arizona.
DARE and PrYSM collaborated to draw attention to the Community Safety Act, a multi-faceted proposed law addressing community concerns about policing. The law contains provisions to ensure all police-citizen interactions are recorded, and that these recordings are available to the public. Having all stops documented would show whether or not Providence police were profiling trans women of color as sex workers. Furthermore, the law contains language to establish protocols during traffic stops, and define protocols for tracking individuals as part of a list of suspected gang members.
Finally, the march demanded accountability for the deaths and suffering of queer and transgender people of color.
Rest in Power is a call to mourning and a call to action. Before a death is mourned, many times the deceased must be reclaimed from a media bent on misgendering trans people, or engaging in character assassination against people of color killed by police.
The theme for the 2015 Pride march was "indiVISIBLE". In the President's welcome message, RI Pride President Kurt Bagley compared drew parallels between the efforts to advance LGBT equality with the uprisings in Ferguson, MO and Baltimore, MD. The appeal to justice is romantic, but these simplistic comparisons ignore the efforts of queer and trans activists of color. Pride, as an organization, is quick to appeal to Stonewall's revolutionary nature, centered around resisting police brutality and profiling. Unfortunately, the LGBT community is quick to disavow the police violence experienced today by queer and trans people of color.
Boston's 2015 Pride March was disrupted by a group called Boston Pride Resistance. A sit it was held, blocking the parade route for eleven minutes. The eleven minute duration was chosen to recognize the lives of the eleven trans women of color murdered, to date, in 2015. Using the hashtag #WickedPissed (a counterpart to #WickedProud), the group demanded greater inclusion of queer and trans people of color. Over a decade after Massachusetts legalized same sex marriage, the group drew attention to inequalities still experienced by LGBT people.
Ten years after Stonewall, activists such as Marsha P. Johnson recalled how the gay rights movement had become less radical. Even before Stonewall, early American gay rights groups such as the Mattachine Society were quick to adopt policies of assimilation. Across the country, middle-class, white gay people are awaiting a verdict in Obergefell v. Hodges, which is hoped to make marriage equality the law of the land. But for the queer and trans activists fighting against the criminalization of race, gender, and poverty, marriage equality is a victory for a different world. If Rhode Island's LGBT community is to be truly "indiVISIBLE", it must first acknowledge these struggles. If President Bagley is seeking the revolutionary spirit of Stonewall, 1969, he will find it in Providence, 2015, with direct action movements challenging over-policing and police violence almost fifty years later.
PrYSM demands racial and immigrant justice at RI Pride

,