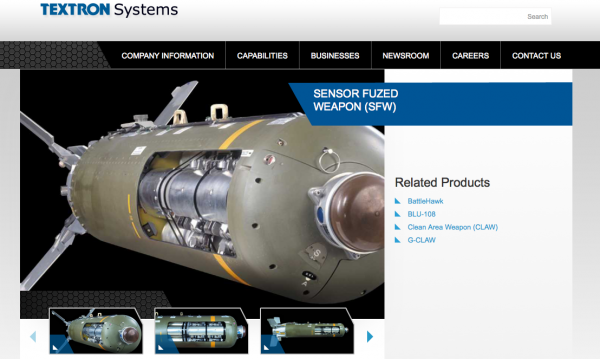 As Saudi Arabian airstrikes threaten to cause a humanitarian crisis in Yemen, the American Friends Service Committee of Southeastern New England is planning to protest Textron outside the company's headquarters in Providence.
"We will gather at 4:30pm with the long budget banner and signs addressing the use of Textron-made cluster bombs by Saudi Arabia in Yemen and a call for our taxes to be invested in addressing human needs not militarization," according to a notice from AFSC-SENE, a Quaker organization that advocates for peace and justice.
The action – scheduled for April 18 at 4:30 outside of the Textron building, 40 Westminster St. – comes on the heels of RI Future exposing Rhode Island-based Textron's role in Saudi Arabian military actions in Yemen, which is increasingly becoming a flashpoint for global human rights activists.
In February, Human Rights Watch criticized Saudi Arabia for its use of cluster munitions against Yemen. The report details civilian injuries and calls out the Textron-made bomb for malfunctioning more than 1 percent of the time – a violation of US trade policy. Last week, the World Health Organization said 6,200 people have died since the conflict began in March of last year and more than 30,000 were injured. The United Nations said this week more than 900 children have been killed since the conflict began, more than seven times more than the previous year.
Cluster bomblets & other unexploded ordnance are a particular hazard to young children. Warning poster in #yemen pic.twitter.com/tXIuX9BlsE

— paul tyson (@Tyson585) March 30, 2016
A New York Times report yesterday said the Saudi led airstrikes threaten to cause a "humanitarian catastrophe in Yemen, one of the world's poorest countries" and listed cluster bombs as a contributing factor. "In addition to airstrikes, civilians must contend with hazards posed by unexploded bombs and cluster munitions dropped by the Saudi coalition."
There are 118 nations that officially condemn the use of cluster bombs. The United States and Saudi Arabia are not among them.
The April 18 protest will include delivering letters to senators Jack Reed and Sheldon Whitehouse, both of whom expressed to RI Future a desire to better address the use of cluster bombs. Whitehouse is a co-sponsor of the Cluster Munitions Civilian Protection Act, which would add regulations to the use and sale of cluster bombs. The US already imposes some restrictions on the use and sale of cluster bombs. Textron is the only American company that makes cluster bombs, though there is at least one other company that makes a component of Textron's cluster bomb.
"Shortly after we gather we will send someone to Senator Whitehouse's and Senator Reed's offices with a letter asking them to at the very least support the People's Budget and to vote against a budget that spends war on militarism than all other things put together," said the AFSC-SENE announcement. "We will also have a letter calling on Textron to stop the manufacture of these weapons."
Read RI Future's full coverage of Textron's cluster bombs here:
Quaker group to protest Textron for selling cluster bombs to Saudi Arabia

,