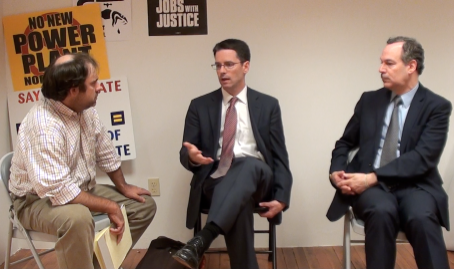 Question 2 on Rhode Island's ballot this election asks voters if the state Ethics Commission should have restored authority over state legislators that a 2009 lawsuit stripped away. While on its face it may seem like any increased oversight of the often ethically-challenged General Assembly would be a step in the right direction, there are free speech arguments against passing the amendment to the state constitution.
Indeed two of Rhode Island's most trusted State House special interests are at odds on Question 2: Common Cause Rhode Island is for the ballot measure and the RI ACLU is against it. So RI Future brought in John Marion and Steven Brown, the executive director of each organization, to discuss their difference of opinion.
"Common Cause and the ACLU disagree on the limits of what free speech is," said Marion, of Common Cause.
"We believe there is free speech that is involved when a legislator representing their constituents gets up and talks about an issue," said Brown, of the ACLU.
At issue is the speech in debate clause of Rhode Island's constitution that, according to Marion, "provides a general immunity – to legislators, and only legislators – from prosecution or suit for their legislative duties." Similar speech in debate clauses exist in 43 other state constitutions, he said.
Marion and Brown agree that a 2009 US Supreme Court case found, in Marion's words, that "there is no First Amendment protection for people with a conflict of interest. If you have a conflict of interest as defined by law you aren't supposed to participate."
Brown thinks the court got it wrong. He said legislators need to be able to do their jobs "freely without fear there are going to be consequences," he said. "We are concerned that the possibility exists that this could be undermined as a result of the amendment."
"I certainly understnad the arguments on the other side and I don't dismiss them because certainly the problem with ethics in our government is one that can't be ignored but I think it's just a legitimate differing of opinions in balancing these issues and deciding where the greatest harm lies."
Question 2 pits ethics oversight of legislators vs. free speech for legislators

,