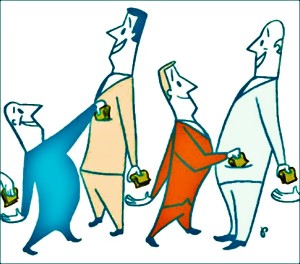 Gov. DiPrete dumpster-diving for his bribe, Mayor Cianci convicted for running a corrupt criminal enterprise, and a myriad of law enforcement agencies raiding Speaker Fox's office. It's easy for any of RI's even casual political observers to rattle off a handful of dramatic events of convictions for or allegations of corruption. Among the exhortations to abolish the option to cast a vote for a single party (the "master lever") was a suggestion that corrupt practices damage economic growth and that such practices would limit business growth in the state.
Color me skeptical. The problems of corruption tend to come when it overwhelms the reliability of basic government function. When it takes a greased palm to move services to act, this is a problem of corruption. When government is slow to act due to backlog or how it functions isn't clear aren't problems due corruption, but with bureaucracy and the unutterable phrase of a "too small budget."
When marquee political names go down under a cloud of corruption, it sticks in the mind. So despite the inconclusiveness of various measures of political corruption in determining where Rhode Island ranks among states, we maintain a deep distrust of our government. And yet I'd gamble that only a small handful of Rhode Islanders have ever had to hand an official a bribe, and that if they have, there's a high likelihood that official was charged with corruption at some point after.
I think that oftentimes we use "corruption" as a shorthand for all our frustrations with government and the political process. It is a word that encompasses our frustrations so well. It also makes it easier to prevent compromise. Facing an entrenched interest and a set of people who truly believe they are doing their best? Corruption. One cannot negotiate with corrupt forces; they must be utterly destroyed.
Thus when I see the usual suspects crowing over abolishing the master lever receiving a unanimously affirmative vote in the House as though it heralds the dawn of a new era I can do little but shake my head. Does anyone seriously think that removing a simple though confusing voting mechanism will really alter the balance of power in Rhode Island? Why is this energy not focused on better achievements, such as reducing the influence of money in our elections, fostering greater democratic participation, or even simply increasing the ability of constituents to access their representatives?
It's far easier to focus on sideshows that don't require much reflection about the government we truly want or require consensus-building. One thing the recent Gallup poll on trust in state governments noticed is that less-populous states are more trusting than more-populous states. I think that's too simplistic; I think it is that more urbanized states are less trusting than less urbanized states. Rhode Island isn't like other low-population states. As a highly-dense state population-wise, it's virtually impossible for seriously corrupt practices to take place without the state's media hearing of it. Contrast this with states where multiple small towns might be covered by a single reporter or news source and separated by vast geographical distances.
This also applies to the "you gotta know a guy" theory. That theory is brought up especially by people who do not, in fact, know a guy. Due to Rhode Island's urbanized nature, the vast majority of people served by the state's bureaucrats don't know them. It's a reasonably basic sociological principle that faceless bureaucracy breeds alienation; and undoubtedly Rhode Islanders feel alienated. Contrast that with a small town, where the local bureaucrat might be your childhood friend and knows everyone on sight. It's much harder to feel alienated from them; it's also far easier to forgive their transgressions.
But reducing alienation is not half as sexy an issue as "fighting corruption." For one, it requires thoughtful investment in government and its employees; not a high priority for our fair-weather government reformers. And it offers none of the drama. No one is ever dragged out in handcuffs for alienating the citizenry. Target 12 and the I-Team don't focus on callous government employees and process. "Bureaucratic processes confuse, frustrate citizenry" isn't a Pulitzer-winning story.
To me, the hoopla over the master lever signals the lack of seriousness among so-called "leaders" for addressing problems within Rhode Island's government. It's a shallow issue for shallow people; up there with tossing loads of cash at 38 Studios (or any other corporation looking for a handout) or cutting taxes of the already-wealthy.