Despite having more Roman Catholics than any other state in the country, no Pope has ever visited Rhode Island. In September Pope Francis will be the fourth Pope to visit the United States in what will be the tenth papal visit to our shores.
The first Pope to visit the United States, or even the Western Hemisphere, was Paul VI in 1965. He limited his visit to New York. He met with President Lyndon Johnson, spoke before the United Nations, held a mass at Yankee Stadium and visited the New York World's Fair, cramming a lot into a 14 hour visit.
Pope John Paul II , 14 years later, made his first of seven visits to the United States. This Pope visited Boston, New York, Philadelphia, Chicago, Washington, Des Moines, Anchorage, Fairbanks, Miami, Columbia, New Orleans, San Antonio, Phoenix, Los Angeles, San Francisco, Detroit, Denver, Newark, Brooklyn, Baltimore and St. Louis over 20 years of visits.
Benedict XVI was the last Pope to visit the United States, arriving in Washington and visiting New York in 2008.
In Rhode Island, Catholics make up about 44 percent of the population, the highest in the nation. But if Rhode Island Catholics want to catch a glimpse of their spiritual leader, they need to travel to where he is. That's why the Roman Catholic Diocese of Providence is leading a pilgrimage of 400 faithful to Philadelphia, where the Pope is speaking before the World Meeting of Families.
Pope Francis, while being true to his predecessors on the subjects of reproductive rights and homosexuality, (he's against both) has nonetheless upset conservative Catholics in the United States with his stance on the environment and capitalism (which he has compared to "the devil's dung.")
Quoted in Politico, Sam Clovis, a Catholic and political activist who's run for US Senate and state treasurer in Iowa said, "In northwest Iowa, we are discussing this a great deal, and sometimes it's hard for us to reconcile the pronouncements we read from the Holy Father with our conservative principles."
Meanwhile, Republican Catholics running for president, such as Jeb Bush, Marco Rubio and Rick Santorum are all trying to differentiate between what their Catholic faith compels them to believe and what are merely the opinions of Pope Francis. The same politicians who once said to Catholics in support of LGBTQ and reproductive rights that such positions were impossible to square with true Catholicism are now facing the same criticism themselves on the issues of economic and environmental justice.
Locally, we are seeing similar reactions to Pope Francis. Conservative Catholic blogger Justin Katz wrote a piece last month for the ProJo in which he asked, "What's the deal with Pope Francis?" Katz is examining Catholic theology as a way of navigating the difficult questions Francis poses to conservative Catholics.
Bishop Thomas Tobin of the Providence Diocese has publicly proclaimed his disappointment with Pope Francis, saying "…he hasn't, at least that I'm aware of, said much about unborn children, about abortion, and many people have noticed that." Tobin, who publicly switched his political party affiliation from Democrat to Republican, has received a fair amount of criticism for this and other remarks about his boss.
Even Bernard Healey, the Catholic priest who lobbies the RI General Assembly on behalf of the Providence Catholic Diocese, has dinged Pope Francis, beginning testimony before the Senate Judiciary Committee on May 25th with a guilty smile, saying, "I would quote Pope Francis, who is widely quoted in the media. You probably missed this quote, they normally miss the ones that I agree with," implying that he disagrees with much of what Pope Francis has been saying.
Nationally, 54 percent of Catholics support same-sex marriage. 66 percent think abortion is at least sometimes justified. 69 percent support contraception. Given such numbers, it seems the Catholic Church is out of step with American Catholics on the political left as well as the right.
Yet here in Rhode Island the Catholic Church exerts formidable political power. The governor, speaker of the House and Senate president are all at least nominally Catholic, as are many members of the General Assembly. Tobin has his own part time lobbyist working our part time legislature. Politically speaking, the Roman Catholic Church is a power player here in Rhode Island and that means that in order to understand our state, we have to understand the dynamics of political Catholicism.
And to do that, you have to understand the Pope.
Since Pope Francis isn't coming to Rhode Island, RI Future is going to the Pope. To do that, we're running a GoFundMe campaign to secure the $1000 I'll need to cover train travel, food, lodging and other expenses. Over the course of five days, from September 23-27, I'll be in Washington DC, New York City and Philadelphia, covering the Pope's visit in my unique way.
This will be very different coverage. Readers of this blog know that I am an outspoken atheist, progressive and democratic socialist. I won't just be covering the Pope, I'll be covering the people I meet. There will be protesters, critics and supporters. I've never done anything like this before, so I expect my coverage to be unlike anything I've done before as well.
Consider donating, and let's see what I can pull off.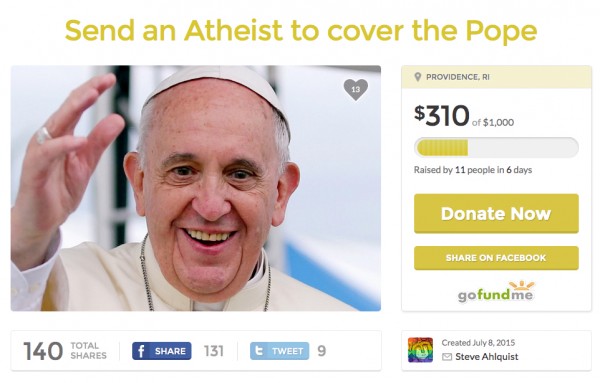 RI Future to cover Pope Francis' US visit

,