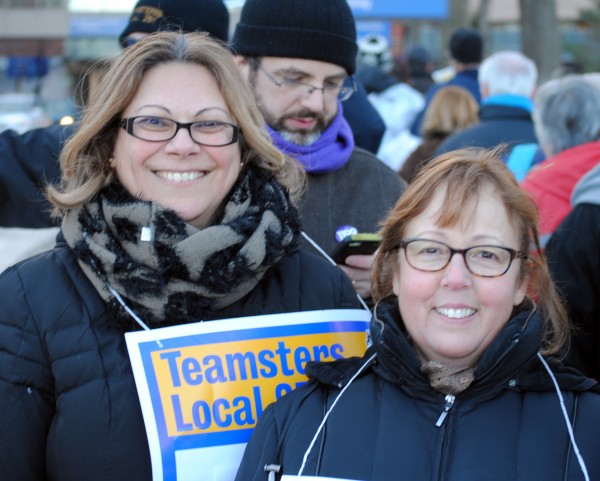 Following stalled contract negotiations between Lifespan and Rhode Island Hospital employees, members of Teamsters Local 251 can vote tomorrow on whether a work stoppage is warranted. There will be three ballot votes at the Local 251 Union Hall in East Providence at 8am, noon and 4pm, according to a Jobs With Justice press release.
"Lifespan executives have angered employees and the community by rejecting common-sense proposals, including a proposal to require the Hospital to "maintain sufficient staff and adequate supplies," said the press release. "Lifespan even rejected a proposal that, "providing quality care to patients and their families is the top objective of the Hospital and that poor working conditions, inadequate staffing levels, inadequate supplies, and improper equipment undermine quality care."
Rhode Island Hospital Senior Media Relations Officer Beth Bailey said, "We are committed to bargaining in good faith toward a fair labor agreement that reflects the positive contributions of our employees. Our proposals to date have included increases to wages for all three years of the contract and shift differentials, and a comprehensive plan to help union employees impacted by technology changes. We are confident in the quality of the care we provide and the investments we have made in technology, equipment and staff to support the delivery of quality care."
Local 251 represents 2,200 employees at Rhode Island Hospital, including non-medical staff, such as secretaries, janitors and landscapers. "But they also represent the unit assistants, the folks who check on patients to make sure everything's okay, and the CNAs," said Strecker. He said he had no idea how many people would show up for the vote. "We hope lots!"
Tomorrow's vote is one step in the process of calling for a labor strike, said Jess Strecker of Jobs With Justice.
"It's an authorization vote," he said in an email subsequent to sending the press release. "The contract negotiating committee will then make the final call about when or whether to strike. Then they would actually give a 10 day notice to Lifespan before going out on strike. The strike could last as long or as shortly as it has to."
A FAQ sheet sent from Local 251 to the 2,200 members said, "Voting to authorize a strike notice does not mean we will issue a 10-day notice right away. We will continue to negotiate and try to reach a fair agreement. A strong Yes Vote will send a message of unity to the Hospital and give the Negotiating Committee more leverage to win a fair contract. A No Vote would send management the message that we are not united. Management would have very little reason to make a fair contract offer."
The FAQ says, "The bottom line is there can be no strike without a second vote by members to go on strike."
Kathy Ahlquist, says the press release, "blames understaffing for her father's medical tragedy." Kathy is the wife of RI Future contributor Steve Ahlquist, who has reported on some of the previous employee actions as a new contract was in negotiation.