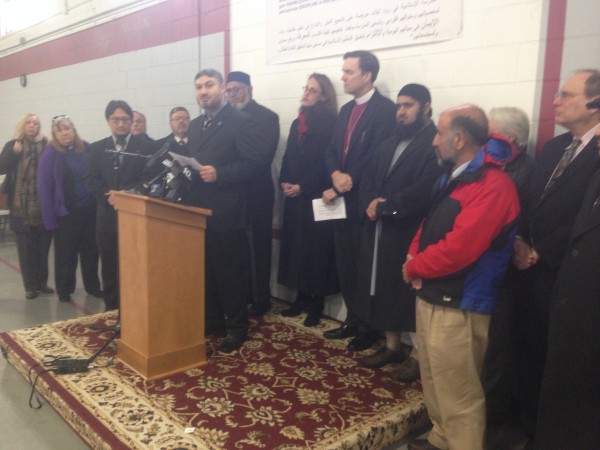 Security camera footage from the Islamic School of Rhode Island taken the night hate-filled anti-Islam graffiti was spray painted on the school shows at least one adult man, said West Warwick Police Major John Mageira.
"It doesn't appear to be juveniles," Mageira said after a press conference at the school on Tuesday.
FBI agent Elizabeth Rosato said her office is "conducting the civil rights investigation right now." US Attorney Peter Neronha said,"if the conduct is motivated based on ethnicity or race or other protected classes it's considered to be a hate crime." To Nerhona's knowledge, this is the first instance of a hate crime against the Islamic community in Rhode Island.
Law enforcement officers answered questions for the media after a group of religious and other faith leaders gave prepared comments to show solidarity with the Muslim school that was defaced by vandalism after holding a vigil for the three North Carolina Muslims who were killed last week.
"I just want this person to understand how much this hurts," said Himly Bakri, president of the board of trustees of the Islamic School of Rhode Island, as he was flanked by faith leaders during the press conference.
"To the person who did this, I want to say this to him, or her, we have nothing but prayers for you," said Mufti Ikram, a Muslim imam, or prayer leader, from Smithfield who works closely with the school. "If you did this to divide us, you failed miserably. If you did this to unite us, you have succeeded."
They were joined by Rev. Nickolas Knisely, bishop of the Episcopal Church in Rhode Island, Rev. Don Anderson, of the Rhode Island Council of Churches, Steve Ahlquist, president of the Humanists of Rhode Island and Rabbi Sarah Mack, who called the vandalism a "flagrant desecration."
Outside the school's gymnasium in West Warwick, there was still spray-painted vandalism on the school that read, "Islam pigs", "Allah is a pedophile", "Fuck Muhammad" and "Now this is a hate crime." One message said "Die pigs" and was written backwards on a window so it could be read from inside the school." [Pictures below]
"When I was physically here seeing the graffiti on the doors, words can't describe," Bakri told me after the press conference. "It had a very personal impact to me. It's one thing to be distant and seeing something in a picture. It's another thing to be physically present and seeing the writing of someone who did this. It was just unbelievable."
There are 160 students at the Islamic School of Rhode Island, which serves students in kindergarten through 8th grade. It's been in Rhode Island for ten years and became accredited last year. Bakrim said this is the first time the school experienced any such issues.
"It was a complete surprise to everybody," he said. "For our students I hope they come out of this knowing this is the kind of world that exists today unfortunately, and that they come out wiser and learn how to handle this and hopefully learn from all of us here today … that we should all work together to be on the forefront of stopping this where ever it happens."
Governor Gina Raimondo said yesterday, "Rhode Island was founded on the tolerance of all beliefs. This hateful act at the Islamic School of Rhode Island has no place in our state. My thoughts and support are with the school and the Muslim community in RI today."
Senator Jack Reed said, "I strongly condemn the vandalism of the Islamic School of Rhode Island.  Our state was founded on religious freedom and we are strengthened by our diversity.  There is no justification and no place for this type of intolerance and bigotry in our community.  I urge anyone with information about the incident to contact the proper authorities."
Senator Sheldon Whitehouse said, "This shameful incident is completely at odds with our state's founding principles, and I hope the perpetrators will soon be brought to justice. To the families and staff who were affected, please know that Rhode Island stands with you and supports you."