On a cold day in December, bus monitor Michele Schenck may have saved the life of Bill Jiacovelli as he waited with his 10 year old daughter Giovanna for the bus.
As he does most mornings before heading off to work, East Side dad Jiacovelli drove his daughter Giovanna to her bus stop on Hope St, keeping the heat on in the car as they waited for the bus. When the bus arrived, Bill got out of the car as Giovanna got onto the bus, escorted by Schenck, a bus monitor who has been on the job for 22 years.
As Bill got out of his car on this particular day, Schenck noticed he, "trembled a little bit and needed to lean on the car a little bit."
Schenck asked Bill if he was feeling all right, but Bill dismissed her concerns, saying, "Oh, I just got dizzy."
Schenck wasn't convinced. She asked asked another parent to look after Bill while she made sure all the kids were safe so that the bus could get underway. Though Bill had dismissed her concerns, Schenck couldn't let it go. "I know how men are," she said to me, "They brush things like this off really quick. By the time he gets home, he's not going to even tell [his wife] Polly that anything was wrong."
Schenck asked Giovanna if she knew her mom's number. Schenck called Polly and expressed her concerns. "I had to make the call short and quick, because I had to look after the kids on the bus."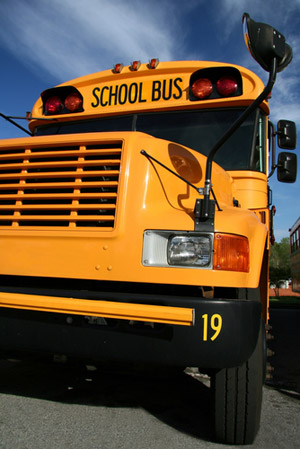 Polly immediately called Bill's doctor and arranged a visit over Bill's protestations. Doctor Rosenberg found that Bill had a previously undiagnosed AFib heart condition that put him at serious risk of a stroke. Had Bill not been admitted to the hospital that morning, he might have died.
Looking back, Bill now realizes that his condition was worse than he was willing to admit.
When Schenck returned to the bus stop to drop off Giovanna that afternoon, Polly was waiting with "a big bouquet of flowers" and a teary eyed hug. Polly told an amazed Schenck that she had saved Bill's life.
"The bus monitors do amazing work," Polly told me, "My daughter has a severe nut allergy, so Michele is always making sure that the kids aren't bringing snacks on the bus that might hurt her. Other kids have asthma or other medical conditions. Michele has to break up fights between kids. Never mind that she makes sure that no kid gets left behind or run over."
"The cars on Hope St. go way too fast," continued Polly, "cars are always blowing past the bus, putting kids at risk. Since the incident with Bill I get misty eyed every time I see Michele look under the bus to make sure it's clear of children."
After 22 years on the job, Michele Schenck makes $11.44 an hour. Providence Mayor Jorge Elorza is considering privatizing the bus monitors in an effort to cut costs, but the bids from Ocean State Transit and First Student, the only two bidders for the bus monitor contract, are in the $30 range. It's hard to know where the city intends to see any savings with that kind of math.
Meanwhile, a petition has begun circulating online asking Elorza to fulfill his "campaign promise to stand with working families" and "oppose the privatization of Providence's bus monitors." According to the petition, the job of bus monitor was "created after the tragic accidental death of a student in 1985. There had been at least one fatal student death each year from 1979 until monitors were mandated — and since then there hasn't been a single one while a monitor was on duty."
Bill Jiacovelli is out of the hospital and on medication for his heart condition. Thanks to bus monitor Michele Schenck, his daughter still has a father to bring her to the bus stop every morning.
"I'm working," said Schenck, "but I'm paying attention. What I did I would do for all the people on my route. We see each other every day. I watch their kids. We're like a family."
As Elorza weighs privatization, bus monitors help residents

,