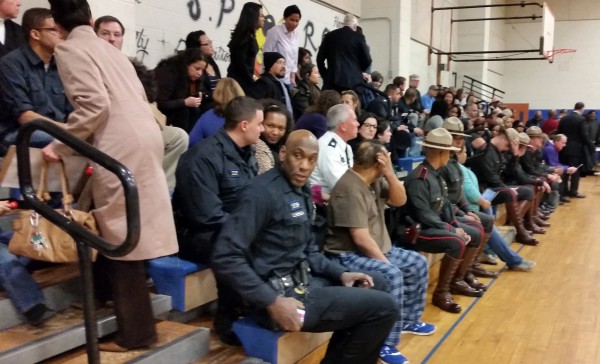 There are 27 new state police troopers this year and 93% of them are white men. There is only one Hispanic man and only one women among the new officers and not one African American. Given that 85 percent of state troopers are white (187 of 220 officers), Charles P. Wilson, chairman of the National Association of Black Law Enforcement Officers, has a problem with the diversity of the current class.
"We find it woefully disappointing that there was not even one African American included among the recent graduates," he wrote in a letter to Governor Gina Raimondo about the racial disparity of new state police troopers. "Even more so when considering that, of the original 1,500 people who applied, there must surely have been more than two who were qualified."
He added, "While it is fully recognized that there is currently a strong disconnect between the law enforcement community and communities of color in all areas of the country, it must also be accepted that this disconnect becomes more stringent when those who are sworn to protect the community do not reflect the makeup of the community."
Wilson and the National Association of Black Law Enforcement Officers have been imploring Rhode Island police departments to hire more people of color since February of 2015. The Providence Police Department is one of the least racially diverse police departments in the nation, RI Future first reported in December, 2014.
"Research has shown that there appears to be a serious disconnect in the manner by which the recruitment for minority law enforcement candidates is conducted within the State of Rhode Island," Wilson wrote to Raimondo. "This disconnect includes a seeming lack of consideration for various cultural competencies that may be pertinent and unique to African American society, that are considered anathema to members of the majority culture of law enforcement, as well as the overall lack of sufficient numbers of racially diverse personnel."
Raimondo agreed with the criticism.
In a statement she said, "I share their disappointment and agree, we need more diversity in law enforcement. It is clear to me that we have more work to do to ensure that our State Police force reflects the diversity of the Rhode Island community. This is a top priority for me. I've directed Col. O'Donnell to continually enhance the State Police's recruitment and training efforts to ensure that future academy graduations reflect a greater level of diversity. It's our hope that some of our new initiatives, including our State Police Diversity Academy, a free 6 week training program, will help to address this issue. I will hold my team and the State Police accountable for this concerted effort."
In his letter, Wilson indicated that actions will speak louder than words.
"While my previous conversations on this issue with Colonel Steven O'Donnell have consistently indicated his desire and understanding of the need to embrace a more diverse pool of candidates, it must be recognized that when an agency's personnel do not adequately reflect the tone and nature of the community it serves, it provides strong indications and perceptions of an unwillingness to address community needs and concerns, racially biased hiring procedures, and a complete lack of connectedness with the community being served," he wrote, "thus often leading to formal complaints regarding agency practices. It may further indicate that any expressed initiatives towards community policing may be nothing more than "public speak" and have little or no true substance."
You can read Wilson's full letter to Governor Raimondo here.
RI state police force gets even whiter

,