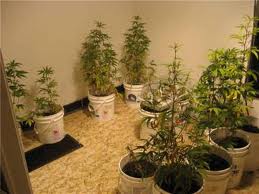 A new poll of 714 Rhode Island Voters indicates overwhelming support for medical marijuana, compassion centers, and decriminalization of less than one ounce of the plant.  The medical marijuana law, gone unused by Rep. Bob Watson (if he were to qualify) garnered support of 72%, including a whopping 82% of Dems, 61% GOP, and 57% of those beloved Seniors that every politician craves.  Only 30% of people over 65 were opposed.  With that support, it should be no surprise that support for the Compassion Centers (approved by the legislature three years ago) was equally high- and the poll suggests that Chaffee stands to gain some support if he were to stop Pot-Blocking the Compassion Centers.  Half the voters said they would view the Governor more favorably, while only 19% would view him less favorably.
A meager 24% are opposed to making small amounts of marijuana punishable by only a fine, and apparently would rather pay to imprison someone over a bag of the most common illegal intoxicant, being used by millions of Americans every day.  In contrast, 65% of RI voters would like to see the highly anticipated change in the law, and 58% would be more likely to vote for a politician who supported such a reform (24% said "less likely," with 18% not sure).  Political gurus: you know the score. Few have ever seen a bill with this much sponsorship and public support that has not become law.  It appears the onus is upon Speaker Gordon Fox to assure all the votes are held, as few individuals other than he could keep this bill from reaching the Governor's desk.  It remains to be seen how many courageous people take to the hearing, saying things heard last year such as: 'I'm a wife, a mother, I have a job, pay a mortgage, and I smoke pot.'  H 7092, sponsored by Rep. Edwards, has a list of co-sponsors that makes you search for the opposition.  Minority Leader Newberry?  Sponsor.  Favorite Villain Rep. Palumbo?  Sponsor.  The aroma smells the same in the Senate, with S 2253.  Stay tuned.
The more interesting proposition is one which gained the support of millions of voters in California on the first try: Full Regulation of Marijuana.  Such a bill has gone to a hearing for the past two years; admittedly, the legislation may need to be more detailed, or empower the proper regulatory agency to oversee a several hundred million dollar economic development project that America has never seen.  I could not find such a bill filed yet in the Assembly, but I may have overlooked it.  The poll of voters, by the way, shakes out 52-41% in support.  If this were projected numbers in an election, the front page would call it a "landslide."  Interestingly, the women are much less enthusiastic about Regulation despite being more supportive than men on the Compassion Centers.  There was no difference in support among party lines, with the Independent/Other having lower support than the two dominant factions.  On this question, the Over 65 crowd was the most out of step with everyone else, as they oppose Regulation 55-36%.  I'm not sure if these numbers would be identical in 10 years, and age reflects our changing opinions, or if the idea of marijuana criminalization will go Bye Bye like Ms. American Pie.
One question that was not asked, that would be of interest, is support for the Good Samaritan Act.  This bill (successful elsewhere) is basically designed to encourage one drug user to save the life of another.  Studies and experience in the medical field has shown that drug overdose, a serious killer in America even when the newspaper is not so explicit, can often be prevented by the most unlikely hero, another user.  However, faced with the fear of prison (and possibly being linked in with their death) the other user will flee rather than call 911 or administer naxalone.  Under this bill, nobody is going to be charged with drug possession if the evidence arises when its a medical response.  Surely a certain percentage of RI voters would rather see people dead or in jail, but I suspect that a vast majority would encourage people in tough times to choose life.
Life, Compassion, and Decriminalization- that is what the people are leaning towards.  Don't let the fear-mongering media fool you.
RI Voters' Poll: Seeking Major Changes In Marijuana Policy

,