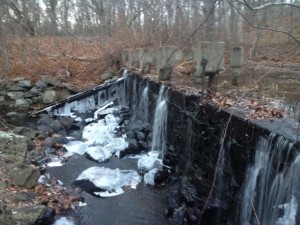 Tuesday Nov 26, 2013
North Kingstown, RI – Good morning, Ocean State. This is Bob Plain, editor and publisher of the RI Future blog podcasting to you from The Hideaway on the banks of the Mattatuxet River behind the Shady Lea Mill in North Kingstown, Rhode Island.
It's Tuesday, November 26, the day before the day before Thanksgiving … or, this year, the day before the storm. The weather prophets are predicting a miserably stormy Big Wednesday, so if you're traveling, be careful.

The steroid era in baseball may be over but not in Thanksgiving … since 1965 the average weight of a turkey has increased from 18 to 30 pounds, according to Mother Jones. God help the human race if it's true that we are what we eat….
There's an environmental catastrophe taking place in Westerly as we speak. The COPAR quarry is mining gravel to the detriment of nearby wells all over the area, and not even an ongoing lawsuit seems to be able to put at least a temporary halt to it. You can read more about it on Progressive Charlestown, our sister blog. It's an amazing story of how an environmental disaster can be done before the public sector has time to react.
But here's the good news of the day, and maybe of the gubernatorial campaign is that Providence Mayor Angel Taveras said he'll implement universal pre-kindergarten for Rhode Island toddlers if we elect him governor. Take that folks who say Angel is a progressive in name only!! This would be a huge. Currently there's free market nursery school for rich kids and Headstart for poor kids but there isn't a whole lot in between. This would mean every kid in Rhode Island would be guaranteed a pre-K education, and Taveras says he'll also push to fund full day kindergarten.
This is the biggest and best idea I've heard in terms of fighting the too huge achievement gap between suburban students and their inner city counterparts in the Ocean State. And forgive me if I still believe funding education is a more critical social issue than de-funding retirement.  The paper of record ran the universal pre-K story on page 3 and on page 1 had a story about how expensive post-retirement benefits are…
Speaking of the ProJo and the governor's race … columnist Ed Fitzpatrick asks the candidates about their "Before I die" wish. Taveras wants to see his daughter succeed, Raimondo wants to succeed as a grandmother, Allan Fung wants to go to China, Clay Pell wants Rhode Island to have the lowest unemployment in the nation … and the 5-foot-5 Ken Block wants to slam dunk someday. To date, this is the most realistic prediction each potential candidate has given for the future – and don't be shocked if Block starts saying every Rhode Islander will be able to slam dunk if he's elected governor.
The Before I Die project is a public art initiative happening at spots around Providence … it's a wall where folks can share their wish for the world or themselves. A really great idea to remind us to imagine the world we want to live in. Before I die I want war and poverty to be things that happened in the past tense. For Rhode Island, I just want every kid to have access the same great education. Charter schools and teacher evaluations and high stakes tests are all just distractions from that…
And speaking of public art … the I-195 commission is looking for people to instal art projects on the 20-acres of undeveloped land left vacant when the highway was moved. The commission will pay up to $2,000 for 12 to 15 installations. Details here.