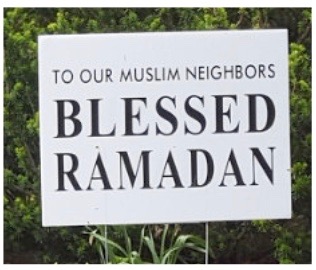 The Rhode Island State Council of Churches (RISCC) invites all faith communities to post free lawn signs that say "To our Muslim Neighbors: BLESSED RAMADAN." Ramadan is the month of the Islamic lunar calendar when Muslims abstain from food and drink from sunrise to sunset. In 2016, it's from June 6 to July 5. This annual observance is one of the Five Pillars of Islam and is performed to learn compassion, self-restraint, and generosity.
"From the current political atmosphere to neighborhood hate crimes, we see negativity directed against Muslims. But this is not who we are in Rhode Island.  When we are our best selves, we are a welcoming, caring, respectful community," said Barbara Scott, the council's president. "Signs on our front lawns is one positive way to demonstrate a caring spirit towards Muslim Rhode Islanders. We're asking individuals, families and faith communities to place a 'Blessed Ramadan' sign near their front doors during the month of Ramadan as a gesture of witness and welcome."
To get a free sign delivered to your address in Rhode Island, please email Paul Alexander with your contact information. The plastic signs are white with black type measuring 18 x 24 inches, similar to lawn signs used in political campaigns.
Other State Councils of Churches are now active in this effort of interfaith appreciation, including Minnesota, Ohio, Colorado, Arkansas, Kentucky and Washington State. Tennessee's efforts are managed by Religions for Peace.
According to local Muslim scholars, one website is recommended to learn more about Islam. (Vocabulary nuance: Muslims are the people who practice Islam.)
The Rhode Island State Council of Churches, which will celebrate its 80th year of service in 2017, is a center for ecumenical conversation and interfaith dialogue between and among the faith communities of Rhode Island.
RI State Council of Churches distributes signs with holiday message to RI Muslim Community

,