The people of Burrillville realize something about the the Energy Facilities Siting Board (EFSB), that Margaret Curran, who chairs the board, does not. During Monday night's public comment meeting, held to decide the fate of of Invenergy's proposed fracked gas and diesel oil burning power plant, Curran several times tried to stop the crowd from rising and cheering and clapping when someone from the public made a particularly smart or heartfelt point during their five minutes before the board. Other times Curran would attempt to cut speakers off, even as the crowd became agitated and yelled, "Let them speak!"
"You're taking time from other people by going over  your time limit," Curran would say, but Curran didn't seem to realize that the community of Burrillville is united. Everyone who rose in opposition to the power plant speaks not just for themselves, but for everyone.
Burrillville itself is speaking through its people, and the Town is saying "No."
This became very clear when Jennifer Bailey rose, and respectfully requested that her time be give the RI State Senator Paul Fogarty. Fogarty and State Representative Cale Keable have been publicly against this power plant for some time. Last week Keable introduced legislation that would make the approval of the power plant much less likely. Fogarty will introduce the Senate version of the bill today.
As Fogarty approached the podium, the crowd rose in a standing ovation. Fogarty noted the large crowd in the auditorium and the large crowds at previous events as proof that the citizens overwhelmingly don't want the power plant.
"In all my time as State Senator from Burrillville, I can honestly say I have never seen the citizens come out so strongly and so passionately against something as they have against this proposed power plant."
Fogarty also noted that the decision to site the power plant in Burrillville falls to "three people who don't have a stake here."
"One is from Barrington, one from Providence, and a third person literally just parachuted in from Bridgeport,  Connecticut. Shaping the future of Burrillville should belong to the residents of Burrillville and no one else." Parag Agrawal, the new Associate Director at the RI Division of Planning, and the third member of the EFSB, is from Bridgeport.
This earned Fogarty his second standing ovation. He received a third as he finished.
This is the second thing Margaret Curran doesn't seem to understand about this phase of the proceedings that the residents of Burrillville have figured out. The EFSB comports itself as a quasi-judiciary body, carefully collecting and evaluating evidence, testimony and reports before rendering a final decision. Yet ever since Invenergy announced the plant with the strong and unwavering support of Governor Gina Raimondo, the building of the plant has appeared to be a done deal, and all the EFSB hearings have been seen as little more than political theater.
The residents of Burrillville, conscripted as actors in this this production, are changing the script even as the play is being performed. The production is going awry, and getting it back on course may prove to be impossible.
As Fogarty left the podium Curran noted that the next speaker, Jeremy Bailey, had spoken at previous meetings. "Didn't you already speak?" she asked.
"I have a lot to say but I'm going to respectfully yield my time to our [State] Representative Cale Keable," said Bailey.
Another standing ovation. Cable wore a green "No New Power Plant" shirt. Last week he introduced legislation in the General assembly that gave more power to the residents of Burrillville concerning any potential tax treaties their Town Council might negotiate with Invenergy. The legislation, if passed, would make the building of the power plant much less likely.
"We ask the board for one simple thing," said Keable, "Please, let us alone."
In all, 38 people spoke during the meeting. Five spoke in favor, 33 spoke in opposition.
David Esten spoke in favor.
John Scott brought up Flint MI., asking "What judge is going to authorize opening a poison well?"
"Governor Raimondo talks about tourism," said Scott, "Our tourism is camp grounds."
Ken Putnam Jr is about to be a great grandfather. He said, "I don't talk like this. A lot of people can't take the time out to come here. Kill this plant. We don't need it."
If Invenergy can't get the date right for a flier, how are they to be counted on to build a power plant, asked Erin Olkowski.
Stephanie Sloman is an environmental engineer. She strongly believes in integrity. "I found a multitude of contradictions in Invenergy's application… the plant will use natural gas as long as it is economically feasible. We know what this means… the plant wants to use 19 percent aqueous among a because at 20 it has to be monitored by the DEM."
"When a monster comes into my house, I have to do everything in my power to slay it," said Sloman, "my home is not just Burrillville, not just Rhode Island, or even the United States, my home is the world."
Anita Bevans said Invenergy mislead the town when they said they would conform to local laws. In their application Invenergy said they would defer to state and federal laws.
Jaimie Tessier said that her morality was questioned at the first meeting when a union member said that she would sell out he home for money. Keeping her son, who has a medical condition that keeps him on a respirator full time, is her highest priority she says. "That's where my morals are. Where are yours?"
"I voted for Gina Raimondo," sais Frances DiPoiceglia noting they share a common heritage and upbringing, "but after a couple of years, I don't think I'd vote for her again."
"Fracking is not needed, and it's not cool." Says Frances DiPoisceglia. "We reject the Invenergy power plant."
Judy Aubin said that she does her due diligence when she is on a board. "I know for a fact that you are over ruled by Gina Raimondo."
Burrillville doesn't need industry, said Aubin. The people live here because it lacks industry.
"These people wouldn't mind a little raise in their taxes to avoid this power plant."
"I am unaware of any environmental policies recommending the use of natural gas power plants," said James Libby.
Terri Lacey asked how an area can go from environmentally spectacular and beneficial, as mentioned in a piece by RIDEM's Janet Coit, to suitable for a polluting power plant.
Earl McWilliams believes that Invenergy has a series of plan B's in mind for their power plant. He read the application to mean that Invenergy is not responsible for properly cleaning the MTBE water. Once built, if Invenergy needs more water, he sees the company tapping Wall Lake.
Brian Sclofield has a 4 year old daughter and 1 year old son and refuses to take on significant health risk to his children from the proposed plant. If the plant is built it's not a matter of if, but when he will move.
Lawyer Barry Craig said Invenergy not assuming liability for the MTBE well when opened is grounds for dismissing the application.
"There isn't a pipeline in this world that doesn't leak," said Craig, "We need eco-terrorism insurance in place… There is plenty of clean energy supply out there. There is no immediate need for this plant."
Christopher Aubin recalled that Invenergy's Director of Development John Niland said that last year was so mild he wouldn't have needed to use oil. But diesel fuel breaks down. There's no way it wouldn't be burned. "You're lying!" said Aubin.
"Big companies don't care about the small people," said Aubin, "Once you get this plant hooked up, John Niland, what's your bonus?"
Kevin Frenette wanted to know if the EFSB can help people who are being impacted by these big energy projects. He managed to get Janet Coit to respond, but she still wouldn't address his concerns.
"So we just get to tell you how we feel and that's it?"
Meg Curran responded, by saying she can't respond.
"Your time is up," says Curran.
The crowd boos.
Leigh Gilbert is in favor of the plant and that said the town needs money, so the town needs the power plant. The crowd tells him to sit down.
Roy Colombe is for the project.
Greg Mancini, a lawyer for the Building Trades, said that many members won't speak tonight because of the hostile environment created by the opposition. He mentioned the First Amendment and a chilling effect.
Andrew Hessler, 17 years old, said Gina Raimondo is all about fracked gas since Goldman Sachs wrote her a big check. She used to be for renewables. An impressive testimony.
Governor Raimondo, "has a chance to be on the right side of this issue," said Burrillville resident and Teamster Ron Lizotte.
"My son was affected by MTBE I'm the water," said Norman Desjarlais, "my grandson is on chemotherapy, which doctors have linked to gas additives."
Paul Lander of the RI Carpenters Union is for this project, but he was very impressed with the Burrillville resident's knowledge and passion. He says that we need to hold Invenergy's feet to the fire.
Stacy Slekis objected to the power plant. She brought a picture from her daughter, asking the EFSB not to "mess up" our town.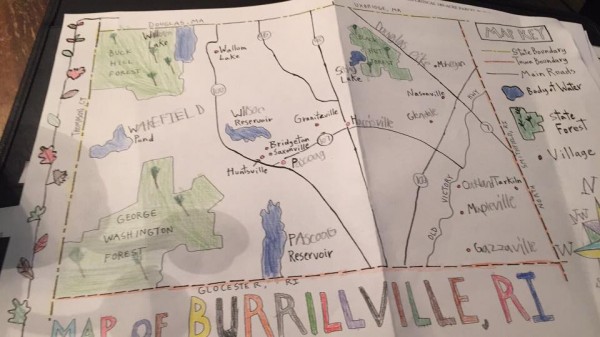 Don Allen said if you could pick the worst place to place a power plant based on prevailing winds, Burrillville would be the worst.
"We're vetting this Governor after the fact," said Allen, "she has an agenda."
Lisa Petrie, arrested at the State House protesting the Invenergy power plant, says the goals of the Resilient RI Act van't be met if this power plant is built.
"We need dramatic cuts in our greenhouse gas emissions starting now, not ten years from now. Now," said Petrie.
"Prisons create jobs. Wars create jobs," said Lisa Petrie, "but we can create more jobs through renewable energy."
"There is no such thing as a clean fossil fuel power plant," said Mike Lamoureux, "You can tell by all the permits needed to build one."
Chair Curran asked Paul A. Roselli not to speak, since he had spoken at a previous meeting. "If I had been told that before hand," said Roselli, "I wouldn't have put my name on the list. But since I wasn't, I'd like to speak."
Cynthia Crook-Pick wanted to speak plainly to the EFSB. The fact this board is the only body that can make this decision is against the principles of democracy and all that this country stands for, she said.
Debbie Krieg told of the battle to close the MTBE well, and worries that "this monster" will be unleashed when Invenergy uses the well water to cool the plant. There has been no site every cleaned up as Invenergy claims it can do.
New to this area, Ewa Roselli says she is really impressed with this community and she is eager to make friends. She asked Invenrgy, "Do you hate us? Why are you wanting to hurt us? How many people here would protest solar?"
"Nobody!" says the crowd.
Deborah Yablonski is from NYC but she's a Burrillville farmer now. She raises chickens and goats. "I became a steward of the land."
Thomas Trimble has a map that shows a nature corridor that runs from Canada to Burrillville. The power plant is right in the middle of this corridor.
Lynn Clark said the plant is being proposed for the heart of Burrillville's forested area. It will have a "direct, negative impact."
Justin Kelley, from the Painter's Union, is a friend of mine. He supports this plant. "I'm the guy who looks in the workers eyes when they can't pay their bills or are evicted from their homes."
Donald Champiany read Invenergy CEO'S own words against him. Brilliant.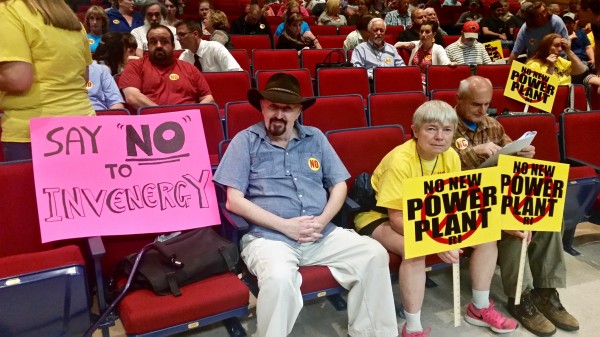 Burrillville flipping the script on proposed power plant

,