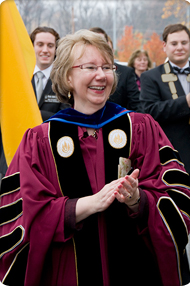 News broke this week that embattled Rhode Island College President Nancy Carriuolo will step down from her post in spring 2016 under terms in her contract designating her departure as "termination without cause." This is a truly saddening moment for many in the college community and leaves some discouraged but others, including students, claiming victory.
In an email sent to the entire Community by the Office of the President, she wrote:
As we are all aware, recently the campus community has voiced a very public mixture of support and criticism of my time at RIC. I cannot ignore the fact that the college community is divided. Consequently, for the sake of the college, the Postsecondary Council and I have agreed that I will step down as president after spring graduation. Next year will be a critical time for higher education in Rhode Island and securing the next leader for RIC as soon as possible will be important to ensuring a smooth and productive transition. I look forward to remaining in my role as president through graduation, and I look forward to us all working together for the good of the college.
Some members of the student community said things on Facebook like "about bloody time" while others wrote on her personal page "It's my last week of grad school … also the RIC president Nancy Carriuolo resigned…. I had the pleasure of meeting her a few times and as student at RIC… politics aside… I think she did great things for the campus and I loved how much she interacted with the students there." It is obvious that, while this is not social networking analysis of a professional, the student community was not fully behind this President and she would have been put in a situation where, between disgruntled staffers and the student body, the well-being of the College could have been put at risk.
Geography Prof. Mark Motte, one of the original public signatories of the letter that brought about this state of affairs, was to be found on WPRO radio crowing victory while failing to present any actual evidence for his claims. In this regard, perhaps it is appropriate to bring to the forefront why people in the College community found his name dubious in relation to voicing the complaints of a labor union, the AFT-affliated Professional Staff Association. Dr. Motte was, until the appointment of Dr. Carriuolo, a member of the administration, perhaps with his own aspirations for higher office, who had a personal stake in seeing faculty contracts negotiated in a fair and timely manner. But on a regular basis, now-President Emeritus John Nazarian would delay negotiations and contracts would be signed long after the expiration of the previous one, a matter that was given coverage in the student-run Anchor newspaper. Yet Dr. Motte never resigned in protest over the treatment of his colleagues in a labor dispute, so why is he positioning himself suddenly in the press as the Samuel Gompers of the staff labor union? Sources indicate there were problematic issues involving the president's office and staff, including frequent turnovers of various officials that caused friction as well as a problem with how Dr. Carriuolo personally interacted with employees. But asking Dr. Motte or Michael Smith, another former administration member, to champion a labor dispute is an extraordinarily dubious public relations move. It invites only scrutiny and rebuttal, especially considering that the Rhode Island AFT local is on Smith Street, just adjacent to the campus.
Dr. Carriuolo was only the second woman, after Dr. Carol Guardo, to serve as president of the college and both women left the office under dubious circumstances. When Dr. Guardo left, Dr. Nazarian returned to the presidency after serving in what had been intended to be only an interim fashion and ran the College so that its reputation and prestige were diminished, becoming the second choice for those who could not get into the University of Rhode Island and serving as an over-glorified vocational school as opposed to a genuine college. His silence during this entire affair has been quite suspect and raised a few eyebrows. It is also worth noting that, though Dr. Motte claims to value "speaking truth to power" he would never have dared pull such a stunt on Dr. Nazarian despite the way he managed things.
This episode does not conclude with Dr. Carriuolo, in fact it only begins a much more troublesome set of affairs. Now a replacement will be needed, requiring a search committee that will spend tax monies that could be spent elsewhere. Will the search be nationwide or will it be in-house? Will Mr. Smith, Dr. Motte, or Peg Brown, another public signatory, try to parlay this into submitting their names for consideration for the job? Did Governor Raimondo, the state's first female to hold the office, refuse to comment on the matter so to shore up support from the AFT, a constituency with which she has shaky standing? Did the Providence Journal, who acted quite shamefully here, refuse to do the proper investigation regarding the claimants and their motivations despite the fact that faculty tried to repudiate the charges because of an agreement regarding motives or because they were too embarrassed to admit they were played for fools quite successfully by the PR-savvy Jane Fusco, another public signatory? Will some of the great things Carriuolo accomplished during her tenure be reversed now that her exit will be tarnished, including the planned nursing building in downtown Providence? If someone who was involved in these complaints about Dr. Carriuolo returns to positions of power under the new president, will those who defended Dr. Carriuolo face repercussions, especially considering the combination of academia's sectarian tendencies on top of Rhode Island's political crony culture? Now that their mission is accomplished, will the other signatories of the original letter come forward and give a through explanation as to what exactly happened here? Will the State of Rhode Island provide an unredacted copy of the letter to the press if a public records request is filed? All these questions and more will be answered as we continue to investigate this matter.
Editorial Note: A previous version of this misidentified Dr. Motte as an anthropologist as opposed to geographer. At one point in history Geography and Anthropology were part of the same department at RIC.