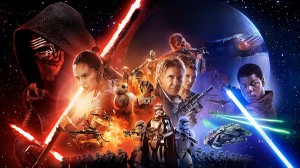 J.J. Abrams has come into his own as a film maker here, creating a film much better than both SUPER 8 and STAR TREK. It is pretty clear he sat down for a few months, broke down the STAR WARS movies into little bits, saved the juicy kernels, and threw out the chaff. He has reverse engineered and rebuilt a film series that needed it badly. Three and a half decades after EMPIRE STRIKES BACK, audiences finally get a sequel that is a worthy successor to what the late Irvin Kershner created in 1980, one of the best science fiction adventure films of that decade. A large amount of credit for this achievement lies with screenwriter Lawrence Kasdan, the scribe of EMPIRE, RETURN OF THE JEDI, and RAIDERS OF THE LOST ARK, he and Abrams have developed a tight, powerful story that keeps you glued to your seat. The special effects are brilliant, the camera work is tight, and the sets are magnificent.
The other part of why this is such a good movie is because George Lucas is not involved. If we are frank and brutally honest, the fact is that the man has some good story ideas but never was a good screenwriter. Indeed, Harrison Ford, who really owns this film, famously once told Lucas "you can write this sh*t but you can't say it." What happened with Lucas is actually a pretty instructional parable of ego gone berserk. When he made the original film, he was on a tight leash and had producers saying "no, George, we can't do that" or "that is a ridiculous idea, George, get back to work." This happened again on EMPIRE STRIKES BACK because Irvin Kershner, who was an old Hollywood pro, was able to have a respectful relationship with producer Lucas.
But after that, things really went south. Lucas became one of the most powerful people in the Hollywood Hills and no one could tell him he was wrong. THE RETURN OF THE JEDI was originally a massively different movie than what ended up on screen. Han Solo was supposed to die in the first act, Luke Skywalker and Princess Leia were not siblings, and the major action scenes were set on the Wookie home planet. The movie ended with the Emperor alive, Lando Calrissian dead, and Luke and Leia parting ways to create a new Jedi order and Republic, respectively. But then Lucas, who could never be wrong, insisted on these absurd rewrites that would conclude the series but also ruin the movie.
By the time Lucas got to the prequels, all hell broke loose. He hired a bunch of yes-men who would grant his every ridiculous wish and tell him he was a genius. "Sure George, a Jamaican Donald Duck is brilliant!" "Sure George, let's turn Anakin Skywalker into a drop-out from Beverly Hills 90210, great idea!" "Sure George, why not turn the final battle between Obi-Wan Kenobi and Darth Vader into a Sega Genesis game, you are America's Shakespeare!" But the sad fact is no one ever told him something that was right in front of his nose: you never turn a bit part Alec Guiness took for the money into the main character of his own movie series! For all his posturing nonsense about great narrative arcs from Joseph Campbell and banal analogies about the fall of the Roman Empire, Lucas never was able to create a protagonist in those movies who was actually likable. It is one thing to speculate about the life of Anakin Skywalker before he became Darth Vader, it is another thing to spend millions of dollars and close to ten years making three absolute clunkers that have as much appeal as an ingrown toenail.
All that is gone here, in fact word has it that Lucas feels burned because they threw out his original story and started from scratch. Instead of Ewoks or Gungans or Natalie Portman impersonating a bologna sandwich, we have the original cast in a genuinely exciting story that leaves you wanting more. Last month I wrote how THE PEANUTS MOVIE was a love letter to fans of that original work. This movie is more than that, it is the crazy make-up loving that every STAR WARS fan needs and the sequel we deserved.