Here's the full press release from the SEIU on its successful effort to organize the 500 independently-employed, state subsidized child care providers in Rhode Island. Voting ended yesterday and workers approved the unionization effort 390 to 19.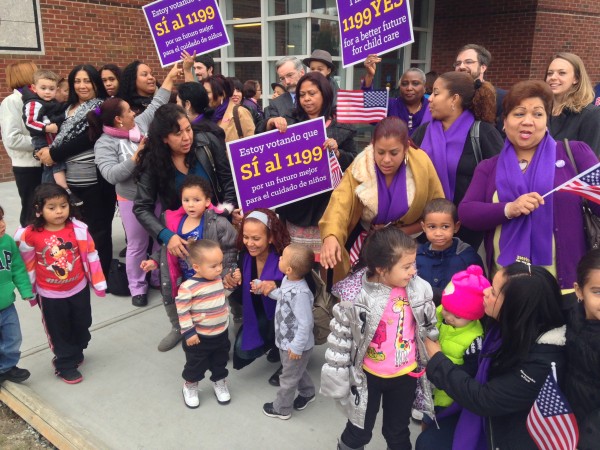 Today the RI State Labor Relations Board (SLRB) counted the votes of more than 400 Rhode Island family child care providers who participate in the state's child care assistance program (CCAP) on the question of whether or not to form a union.  The results were clear: by a count of 390 to 19, CCAP providers overwhelmingly chose to unite together in District 1199 SEIU New England.
Turnout in the election was nearly 76% percent, as 409 of 539 eligible providers cast their ballots at six different times and locations around the Rhode Island during the last week of October.
"Family child care providers can now work together through our union to advocate for improvements in our profession, just like our colleagues in Massachusetts, Connecticut, and many other states," said Nuris Ynoa, a provider in Providence for 14 years.  "Children in our communities will benefit from improved early learning opportunities as we work to expand professional development and training for our field."
Child care is a necessity for Rhode Island families; 70% of RI children under the age of six have working parents and are in child care.
There is broad consensus that early learning opportunities have a profound impact on children's development and promote overall economic growth. A 2003 study sponsored by the Greater Providence Chamber of Commerce found that "the child care sector created 9626 jobs across all sectors in Rhode Island" and that for every $1.00 spent on child care, $1.75 was returned to the Rhode Island economy.
However, state investments in early learning have decreased dramatically as the state's economy faltered – reducing the number of qualifying children by nearly half, from over 14,000 children in 2003 to 7,849 children in December 2012. The number of family child care providers was also cut in half, leaving parents returning to work with fewer options for flexible, quality child care.
Marcia Coné, CEO of Women's Fund of Rhode Island said, "For too long the state's home family child care provider sector has been plagued by economic instability which has forced hundreds of dedicated providers out of business. By voting to form a union these women owned small business now have a formal voice to advocate for policies that will strengthen early childhood learning in Rhode Island."
Providers' decision to form a union will help to strengthen early childhood education by improving their access to training and professional development, as well as helping to stabilize their field by improving working conditions and reducing turnover.
"For too long, the work of caring for and educating young children has suffered from low wages and high turnover," said Lori Parris, a family child care provider from Pawtucket.  "Research shows how important stable relationships are to children's development, and by improving standards in our field, we can ensure that all children get the best possible start in life."
Rhode Island family child care providers are joining a growing national movement of front-line early educators who are uniting to raise up their profession and ensure that all young children have access to high-quality early learning.
For more information, visit www.childcareRI.org.