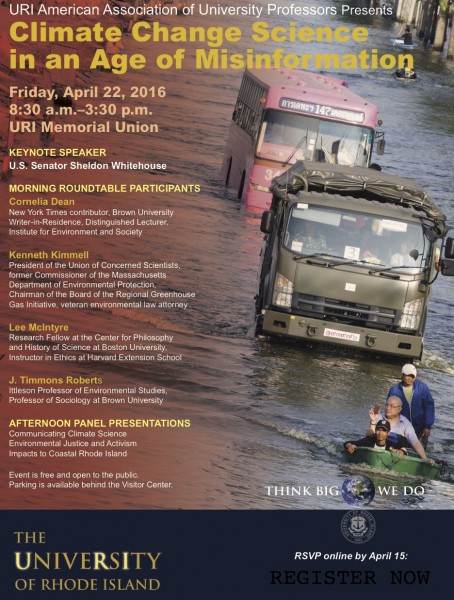 One side of the debate concerning climate change denial has been represented recently in Wall Street Journal and Providence Journal editorials, with both conservative op/ed boards taking Senator Sheldon Whitehouse to task for suggesting Big Oil should be held liable for lying about climate change.
"Under Presidents Clinton and Bush the Department of Justice brought and won civil lawsuits against the tobacco industry for its coordinated, fraudulent campaign to sow doubt about the potential harms of its product," Whitehouse told RI Future. "I have asked whether similar inquiries should be made into the climate denial scheme that is steadily being revealed."
The URI professors' union (AAUP) is holding an Earth Day round table discussion on Friday to continue revealing the facts, and delve into the opinions. The event is called "Climate Change Science in an Age of Misinformation."
Whitehouse will be there, as will former New York Times science editor Cornelia Dean, Kenneth Kimmell, the president of the Union of Concerned Scientists, J. Timmonds Roberts, a Brown University professor of environmental studies and Lee McIntyre, a philosophy fellow at Boston University. The public is invited to attend.
But what is climate change denial? The Wall Street Journal and Providence Journal pieces make it seem like Whitehouse wants to punish people for simply disagreeing with his position on climate change. Hardly, said Erik Loomis, a URI history professor who helped organize the event.
"It's corporate funded pseudo-scientific research that is intended to sow doubt in people's minds about climate change so that the entrenched interests can continue to profit off of the current energy regime," he said. "It's disappointing but not surprising that newspapers owned by media conglomerates are defending this."
Whitehouse also offered his perspective on why such newspapers are defending climate change denial.
"This drives the fossil fuel front groups crazy," he said about holding Big Oil accountable in the same way Big Tobacco was held accountable. "So the Wall Street Journal and others are trying to saddle me with an argument I'm not making – because they don't have a good response to the one I am making. It's tough to convince people that the fossil fuel industry should be too big to sue, or that it deserves different rules than any other industry under the law, so instead the Journal repeatedly and falsely has accused me of seeking to punish anyone who rejects the scientific evidence of climate change.  That is disproved by the tobacco case itself, which is one reason they don't much like talking about it."
Whitehouse will speaking at lunchtime. Dean and Kimmell are leading a panel in the morning. Peter Nightingale, who was once arrested in Whitehouse's office protesting the senator's lack of action against a proposed methane power plant in Burrillville is speaking in the afternoon about climate change activism and environmental justice. Bill McKibben is leading off the day-long event with a video recorded specifically for URI.
Sheldon Whitehouse talks climate change denial Friday at URI

,