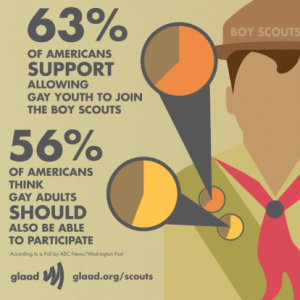 A Portsmouth activist is questioning the local school district's decision to host a field trip with a group known for discriminating. John McDaid, who blogs about local issues here, and his wife plan to address the Portsmouth School Committee tonight about a Boy Scout field trip.
"The question we're going to put to the School Committee and administration is not the Boy Scouts' private membership restrictions, but rather the entanglement which ensues when a public institution expends public money for student participation in a program run by an organization which, as a matter of policy, excludes participation based on sexual orientation and religious belief," he wrote on his blog. Read his post o find out how McDaid suggests the school committee remedy the issue.
The Boy Scouts of America reversed its long-controversial policy of discriminating against gay scouts in May. It still discriminates against gay scout leaders and requires new members to sign a "Declaration of Religious Principles."
The Freedom from Religion Center has said that the public sector should not work with Boy Scouts until it ends its policy and practice of discrimination. "At the same time it demands public privileges, support, and favors, BSA argues that it is a private group with the right to discriminate. If Boy Scouts of America insists on standing for bigotry, then it should stand alone–without the support of our public institutions."
In 2012, a church in East Greenwich told the local Boy Scout group it could not hold meetings there until it stopped discriminating against gay scouts.
According to McDaid, there may be practical as well as ideological reasons for Portsmouth to distance itself from the local chapter. He wrote that adult leader allegedly said the local group can and will continue to discriminate against scouts.
"Our son, Jack, wanted to try Scouting, so we signed him up for Cub Scouts a few years ago," McDaid wrote. "At the first large-scale event, held with children and parents at one of the campgrounds, while the kids were off at an activity, a scout leader explained this principle to the parents in no uncertain terms. 'We don't have to be tolerant,' he said 'and we have a Supreme Court decision to that effect.' I can confirm that I am not the only Portsmouth parent who has a clear and vivid recollection of this event."
The Portsmouth School Committee meets tonight, 7 pm, at Town Hall.
Should public schools host Boy Scout field trips?

,