Browse:
Home
/
Pat Morgan
By Steve Ahlquist on August 23, 2017
"What we heard today clearly is that the energy burden that is experienced by many in Rhode Island tears at the social fabric of our state," said Abigail Anthony, on her first day as a commissioner on the PUC.
Posted in Activism, Class Warfare, Climate, Corporate Greed, Energy, Featured, Inequality, Infrastructure, National News, News, People, Photos, Politics, Rhode Island, State House, Video | Tagged aaron regunberg, Abigail Anthony, Acadia Center, Allan Fung, Camilo Viveiros, Chloe Chassaing, Colin Nagle, Daniel McKee, Douglas Gablinski, Erika Niedowski, Gael Tadded, George Wiley Center, Gina Raimondo, John Gallager, Kat Burnham, Kate Schapira, Margaret Curran, Marion Gold, national grid, Pat Morgan, People's Power and Light, puc, Rhode Island Business Coalition, Rhode Island Public Utilities Commission, Rhode Islanders for Affordable Energy, Robert Lancia, Suzanne Dumas, TEC-RI | 6 Responses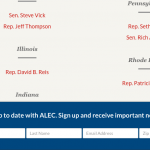 By Bob Plain on October 28, 2016
ALEC is back in Rhode Island. Republican legislator Pat Morgan confirmed she's a member of the American Legislative Exchange Committee, a business-backed bill mill that pairs corporate donors with state legislators. "I found it to be a really good group," she told RI Future. ALEC's website lists Morgan as the state director in Rhode Island. […]
Posted in State House | Tagged ALEC, Pat Morgan, Rhode Island State House, Vincent Marzullo | 2 Responses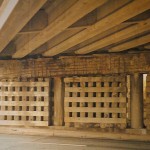 By Samuel Bell on February 9, 2016
Republican Reps Patricia Morgan and Dan Reilly have been making a major push to stop the truck tolls in the RhodeWorks proposal, yet have signed onto a bill that would drastically expand tolls in Rhode Island.
Posted in Featured, Infrastructure, Rhode Island, State House, Transportation | Tagged dan reilly, Jared Nunes, Pat Morgan, tolls | 4 Responses