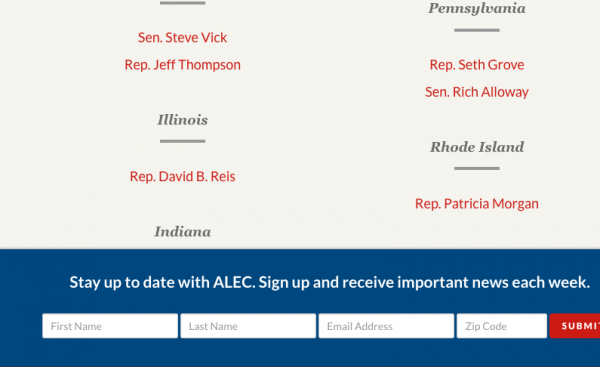 ALEC is back in Rhode Island. Republican legislator Pat Morgan confirmed she's a member of the American Legislative Exchange Committee, a business-backed bill mill that pairs corporate donors with state legislators.
"I found it to be a really good group," she told RI Future.
ALEC's website lists Morgan as the state director in Rhode Island. Her 2016 financial disclosure form shows two trips to ALEC conferences – to San Diego, for $1,400 and to Phoenix for $1,100.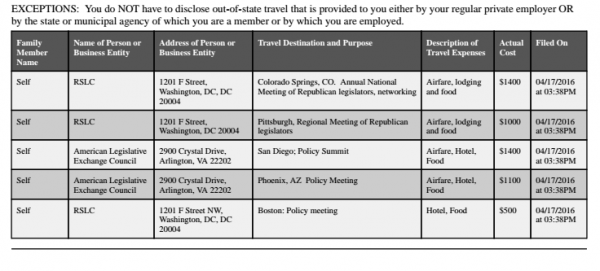 ALEC membership in Rhode Island was a hot button issue in 2012, when the group's model Stand Your Ground bill became controversial after it helped exonerate George Zimmerman in the killing of Trayvon Martin. That year 24 local legislators, half of whom were Democrats, were members. By 2013, there were only six ALEC members in the General Assembly (though on p. 39 ALEC lists 12 members in 2013). In February 2015, RI Future reported that the last legislative membership in ALEC had expired on the last day of 2014. Morgan said she has been an ALEC member since January of 2015, but she was unsure of the exact month.
Morgan said she does not know anything about ALEC's involvement with Stand Your Ground laws, and did not know the group had been controversial in Rhode Island.
She also said she does not where ALEC's funding comes from. When informed it comes from corporations, she said, "I'm just as much against corporate welfare as you are. My idea is to do what's right for Rhode Islanders, not for corporations."
Her campaign opponent, independent Vincent Marzulo, is raising Morgan's involvement in ALEC as a reason to vote against her. (Democrat Anthony Paolino is also running against Morgan).
"Her advocacy for private profit at the public's expense raises serious questions concerning her commitment to the public good," said Marzulo. "The American Legislative Exchange Council (ALEC) is a secretive, right-wing, Koch Brothers-funded corporate advocacy group that seeks private profit at the expense of public interest."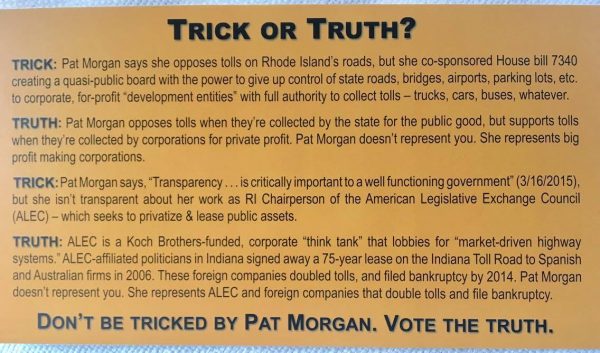 Sam Bell, state director of the Rhode Island Progressive Democrats, added, "A far-right group that takes uses a money hose of corporate money to influence state politics, ALEC has wreaked great damage all across our country. From stand your ground laws and voter ID to an ocean of bills to help corporate special interests, ALEC has been uniquely effective at pushing awful public policy on the American people. It is hardly surprising that ALEC would align itself with Pat Morgan, a Wall Street politician known for supporting nutty right wing policies. For instance, Pat Morgan actually signed onto a bill to privatize roads and put tolls on cars."
Morgan said doesn't think of ALEC as being "conservative or liberal". She said her relationship with ALEC has already paid dividends for Rhode Island. She said at a conference she learned about the drug Vivitrol, used to help people ween off drug addiction. She said the product is now used at the Adult Correctional Institute, in part because of her.
She said she doesn't agree with everything ALEC pushes – citing a "session on international relationships." She said she did not remember the specifics of the session. She also said there was an ALEC session on legalizing marijuana, an issue she said she does not agree with.
When asked if she thinks ALEC cares more about its corporate sponsors or her constituents, Morgan said, "I believe they care more about good policy that helps average people lead good lives."
17 minutes into our interview, Morgan asked if she was on or off the record. I told her I identified myself as the editor of RI Future when I first called. Morgan feels I should have also informed her that I was writing a story. She hung up on me, and called back a few minutes later yelling. She said she does not think I have integrity.
House spokesman Larry Berman said the legislature does not pay dues of any ALEC legislators, as was the practice in 2012.