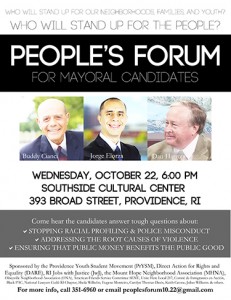 More than a dozen community-based organizations, along with advocates, activists, organizers, students and community leaders are collaborating to ask the mayoral candidates tough questions about the solutions these groups have proposed to fix the most serious problems that plague our city. Too often, politicians continue to express support for the same tired policies that are responsible for expanding the equity divide in our city in the first place. We believe that the people who are facing the problems are the experts on those problems and have common sense solutions. Our politicians should embrace these solutions and you (the public) need to know whether they support these solutions or not.
Each candidate has received a week in advance a detailed questionnaire covering three proposals: the Community Agenda to Address Violence, Public Money for the Public Good, and the Community Safety Act. The candidates have been requested to provide clear "Yes" or "No" responses to each section of the proposal. If they do not provide answers before the forum, their speaking time will be dedicated to getting clear responses.
Community Agenda to Address Violence
Following a five-person shooting in the Chad Brown section of Providence, and in response to a call to action by the Providence branch of the NAACP, a number of concerned community members have been meeting to develop a strategy to effectively address these issues within the Providence and Rhode Island community.  The ultimate fruit of these efforts has been the development of a Community Agenda to Address Violence to serve as a roadmap for success.
Candidates will be asked about their support of each section of the Community Agenda to Address Violence.
Public Money for the Public Good / Public Resources, Our Vision (PROV)
Rhode Island Jobs With Justice has convened a coalition of community organizations, building trades unions, environmental groups, and service sector unions, to develop and call for a uniform set of standards companies receiving public subsidies and operating in the city of Providence have to abide by. We believe that public money should be used to further the public good. During campaign season, we hear a lot of promises of jobs, and development projects that will be good for the city. We want to know where the candidates stand on a list of benefits we see as essential in order to ensure these development projects actually do provide tangible benefits for our communities.
Candidates will be asked about their support of each community benefit proposed of all companies receiving tax subsidies in the city of Providence.
Community Safety Act
The Community Safety Act takes its name from the urgent need to make our communities safer – for our children, our extended families, and our neighbors.  The clear reasonable guidelines for police community interactions that this ordinance includes are basic first steps to reducing anger at police misconduct, increasing trust and communication, and most importantly – shifting the focus from criminalizing people of color, to addressing the root causes that perpetuate violence in our communities.  The Community Safety Act addresses critical areas, including several in which the Providence Police have no existing policies to guide them.  The Act was introduced in the City Council on June 19, 2014 after nearly two years of community-based planning including house meetings, workshops, and a youth forum.
Candidates will be asked about their support of each section of the Community Safety Act.
JOIN US!
Sponsored by: Providence Youth Student Movement (PrYSM), Direct Action for Rights and Equality (DARE), RI Jobs with Justice (JwJ), the Mount Hope Neighborhood Association (MHNA), Olneyville Neighborhood Association (ONA), American Friends Service Committee SENE, Unite Here Local 217, Comité de Inmigrantes en Acción, Black PAC, National Lawyers Guild RI Chapter, Urban League of RI, Rhode Island Young Professionals, Cambodian Society of RI, Southside Cultural Center, Sheila Wilhelm, Eugene Monteiro, Carolyn Thomas-Davis, Keith Catone, Julius Williams. & others.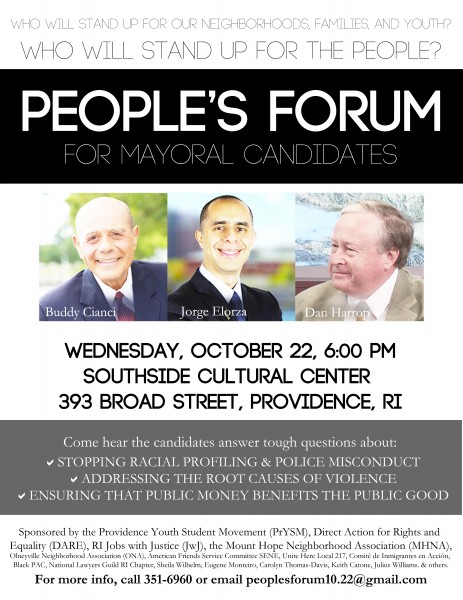 The People's Forum: a mayoral debate for the people of PVD

,