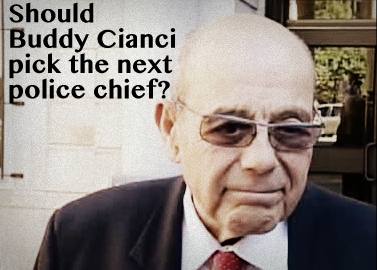 Cianci was elected three times in the 1990s – why did he wait until 2001, while under federal investigation, to appoint a chief committed to the idea of community policing?
Richard Sullivan, who served as interim chief from 2001-2002, was introduced to the public by Cianci as "Mr. Accountable." Urbano Prignano, full chief from 1995-2001, was introduced as "a cop's cop." Should there be any difference?
Sullivan made the rounds at neighborhood meetings, and two months into the job the interim chief called a summit with community activists. In the short run, the interim chief closed the community policing unit, but did so to revamp community-focused procedures department wide, echoing successful approaches from Boston. Why didn't Cianci ever ask his previous chiefs to do so?
Under Sullivan, and, indirectly via the pressure from community groups and federal investigation, no longer were Providence cops required to hold onto their weapons at all hours, which some argued contributed to Sgt.Cornel Young Jr's death. No longer were people paying for promotions or was the chief passing along answers for the police exam. If Cianci was so effective and forward thinking, couldn't he have put pressure on the department to clean up in 1995? 1996?  1998? 1999? 2000?
Yet, even with true and healthy progress, Sullivan was opposed to efforts to establish the Providence External Review Authority, a civilian panel to look at police abuse complaints. Under his short tenure, the department faced a lawsuit from the ACLU and Attorney General (now US Senator) Sheldon Whitehouse for "failing to comply with a state-mandated racial profiling study." In a separate incident, Sher Singh, a software engineer who is also a Sikh, was arrested by Providence police shortly after the horrific 9/11 attacks when his Amtrak train arrived in Providence, based on a tip that four suspicious individuals were on the train. Reportedly, one officer taunted, "How's Osama bin Laden?" After protests from the community and Attorney General Sheldon Whitehouse's office, Mayor Cianci agreed to have the Providence police drop charges for carrying "a concealed weapon", a ceremonial dagger worn by Sikhs.
Before his last minute conversion to accountability, Cianci presided over years of policing policies that alienated city residents. Police Chief Bernard Gannon (1991-1995), who spoke out against a videotaped incident of police abuse in 1995 before leaving the city, was sued to release records of the department's police complaint records. Police Chief Prignano (1995-2001) was sued for policy entrapping and arresting gay men on Empire St, including LGBT rights activist Rodney Davis – in the late 1990s!
Cianci offers happy words (opposing abuse, celebrating equality), but, especially around community policing, he delivered when it was convenient for him, not for the people in the city.