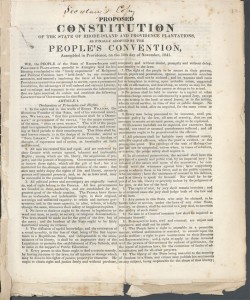 Some progressive groups and labor unions are actively opposing holding a constitutional convention. Indeed, I just got a letter for the head of the RI Federation of Teachers to that effect. It seems there was no rank and file input into that decision. Similarly as a member I had no input into the ACLU decision to oppose.
This is a disappointment, as
Rhode Island is not doing that well, especially for working people,
and much of the public is cynical about government, disengaged
from civic activity and the political process. This is not in our interest as ultimately we need a more positive attitude to get the public support needed for government programs.
A constitutional convention can address this by reforms getting at the who-you-know insider system, Assembly procedures allowing midnight sessions with rules suspended, judicial selection abuse, 38 Studios type

end runs

around voters, fair redistricting, campaign finance, ethical requirements on legislators. It can build democracy, especially if voter initiative is approved, as it almost was the last time. The RI Sierra Club chapter had supported VI because of our experience elsewhere where it was used to pass environmental legislation, including CA coastal protection that real estate interests had blocked in their Assembly, and "bottle bills" blocked here by the throwaway industries. Indeed much of the energy these day on voter initiative is in the progressive direction, raising minimum wages, paid sick days, labeling

GMO

food, repealing anti-labor laws, expanding a bottle bill, but many of our progressives seem not to have caught up with that.
Civil rights is a legit concern, but I see little threat voters will restrict the rights of minorities in RI. MA is similar to RI but though they have voter initiative, this has not been a problem. Indeed a constitutional convention or VI could EXPAND rights such as the right to privacy, rights of the terminally ill, rights of children to an adequate education (recently ruled not now a constitutional right,) the right to vote, maybe even improved rights to shoreline access.
As for reproductive freedom, it is a big factor in my support for a con-con in hopes of getting Voter Initiative which of course the Assembly would never voluntarily give up any power and allow. Think ahead. If the GOP wins the next election, a shift of 1 US Supreme Court justice could overturn Roe v Wade, not an unlikely prospect. What are our prospects in the Assembly then, especially with

Mattiello

and

Paiva

-Weed in charge? Very low. Pro-choice people would be much better off with the voters, but without VI we'd have no recourse.
I think it would damage the union movement and the progressive community if they are seen as being afraid of the people voting, especially as Rhode Island voters consistently support infrastructure, transit, and public higher education investments, facilities for veterans and the disabled, and environmental protection, even voting pro-choice when that was once on the ballot.
We have a small progressive group, Just Reform RI, that is advocating for the constitutional convention, we are developing a website www.justreformri.org and a "civil rights pledge" asking candidates for any convention to sign pledging not to reduce the civil rights of anyone. Please consider meeting with us as appropriate. Lets give democracy a chance!