Fast food workers, restaurant servers, victims of wage theft, victims of police abuse, labor unions and elected officials will march together in Providence today in a national day of action in the Fight for $15, a nationwide effort to improve working conditions for fast food workers, and others.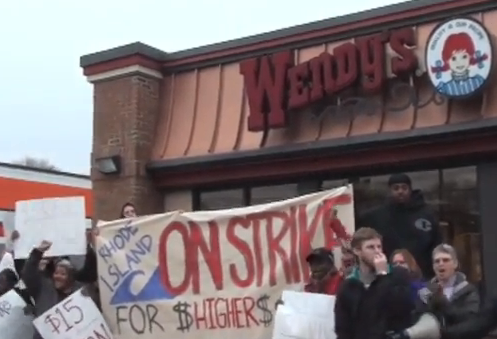 The local march starts at 4pm, at the Grants Block, 260 Westminster St., and will proceed through downtown to Burnside Park. Hotel workers are also holding a separate action today in front of the Hilton Providence at 5pm.
Speakers at the larger action will include Jo-Ann Gesterling, who led this action at a Wendy's in Warwick, Malchus Mills, a DARE organizer, Mike Araujo, of the Restaurant Opportunities Center who is helping waitstaff win a higher wage this year and Providence City Councilors Luis Aponte and Mary Kay Harris. And while the group is marching in solidarity with workers around the country, they've also got a few local demands.
According to a press release from Jobs With Justice:
"The coalition seeks to pass a city ordinance that would require all companies getting tax breaks in Providence to:

Pay workers a living wage of at least $15/hr, provide paid sick days, health benefits, and fair, predictable schedules
Follow the First Source ordinance by hiring residents of Providence, prioritize hiring people from high poverty neighborhoods, and make sure that people working these jobs have a pathway to a real career by using apprenticeship programs
AND, to set up a community board with the power to approve/disapprove projects, take back money if companies aren't living up to what they say they'll do, and negotiate the construction of projects community members identify as needs, such as affordable housing, or fixing up an abandoned lot into a park"
Today: Fight for $15 in Providence, nationwide

,