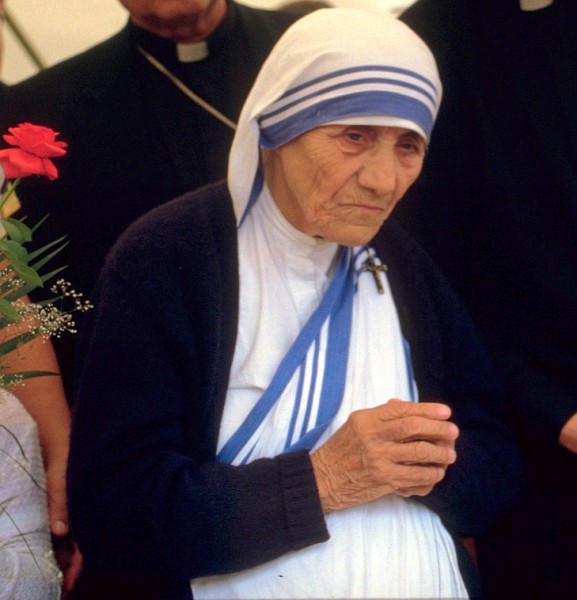 When Mother Teresa appeared on Firing Line in conversation with conservative pundit William F. Buckley Jr., she told the following story in response to Buckley's question, "Why did God permit pain?"
"Once I met a lady who was in terrible, terrible pain of cancer and I told her, 'This is but the kiss of Jesus, a sign that you have come so close to Jesus on the cross that he can kiss you.' And the lady, though she was in great pain, she joined her hands together and said, 'Mother Teresa, please tell Jesus to stop kissing me.'"
Mother Teresa, the audience and Buckley all laughed at this story, reveling in the suffering that their God had inflicted on this woman. For Mother Teresa and her adoring followers, suffering is seen as a purifying gift. To them, the suffering of others has become fetishized, the pain filled deaths of our loved ones a spectacle through which God reveals himself.
Those who do not believe in a God that doles out the gift of soul cleansing suffering reject the terrible "mercies" of Mother Teresa, yet our rejection of her wisdom does little to deter her followers from imposing their views on our lives, dictating how we are expected to live our lives and die our deaths.
During last week's House hearing on the Lila Manfield Sapinsley Compassionate Care Act, a bill that would allow those facing a terminal illness filled with suffering and loss of dignity to end their lives, opposition was almost entirely organized by the Catholic Church and Barth E. Bracy of RI Right to Life.
Bracy admitted to organizing the opposition to this bill when he said to the committee, "We've submitted written testimony from many of the people who have testified, we submitted 23 copies around four o'clock…" Some testifying against the bill also regularly testify with Bracy on reproductive rights issues.
Representative Arthur Corvese, a conservative Catholic social warrior famous for the Corvese amendment, an eleventh hour addendum to the now defunct "civil unions" bill that essentially allowed anyone to discriminate against couples who joined in civil unions based on their religious beliefs, was quick to tell Bracy, "I think it's obvious, Barth, you and I go back a long way, that this bill and others like it across the country are basically nothing more than the philosophical outgrowth of the continuing culture of death that began in 1972. Where abortion kills the young these bills provide a rationale to kill off the old."
Too often it seems as if Corvese sees his job, legislating in the General Assembly, as little more than a way to impose his Catholic theology upon the entire state. This is a Catholic theology that sees suffering as something to be embraced, not avoided.
Mother Teresa saw suffering as a way to bring the terminally ill closer to God. "It depends, sometimes, what is in their own hearts. If they pray, I think [suffering] is very easy to accept because the proof of prayer is always a clean heart. And a clean heart can see God…"
Father Christopher Mahar, Rector of the Seminary of Our Lady of Providence, seems to agree with Mother Teresa, saying that, "…at the end of life, there are many beautiful choices to make. Choices to reconcile with loved ones, choices to reconcile with God and prepare for eternal life, if one believes in that."
Representative Robert Lancia was inspired by Mahar's comments to ask about Pope John Paul II, who, at the end of his life, says Lancia, "could have chosen to end his life." This is an odd claim, given that assisted suicide is legally forbidden in Italy and that the Catholic Church is against death with dignity legislation worldwide. Of course, Lancia was really seeking to give Mahar a chance to expound on Catholic theology in regards to assisted suicide.
Mahar brought up Pope John Paul II's encyclical Fides et Ratio. According to Mahar, John Paul II was "always a proponent of caring for people not just based on religious principles, but also upon reason." This is a bit disingenuous, since what John Paul said is that reason, by itself, is incomplete without faith. In other words, reason by itself is not sufficient, religious faith is a requirement.
This is a religious idea, not shared by everyone. Even many of those who embrace the idea of the necessity of faith do not believe that it follows that suffering must be endured and death must always come naturally. This is not even the belief of all Catholics. 52 percent of Catholics polled in Colorado support death with dignity laws like the one under consideration in Rhode Island.
"I was just so impressed by Pope John Paul and how he ended his life," said Representative Lancia, embracing the story of his Pope's heroic ordeal, "It was such a positive. When he could have ended his life but didn't, he went through the suffering and ended in a positive, dignified way."
"If you come to our house here in Washington," said Mother Teresa to William Buckley in 1989, "You would be surprised to see on the suffering faces the beautiful smiles. Through the terrible suffering they are content."
Maybe for the believers, Mother Teresa's words ring true.
But what of the rest of us?
Mother Teresa demands you die suffering

,